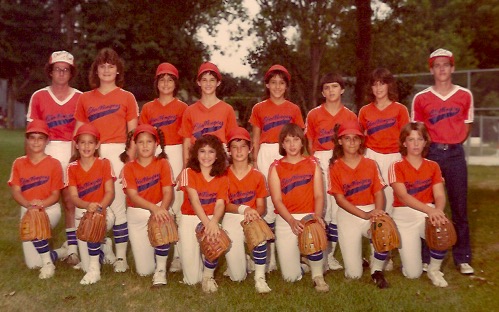 I discovered fastpitch softball almost by accident. Riding my bike around the spacious fields that surrounded my elementary school, only two blocks from my house, I noticed a team of softball players by the backstop. They sparked my curiosity, and I casually rode their way. Wait, that's Mimi! And Maureen. And a couple of other friends from around my neighborhood. I had no idea they played on a softball team.
So I parked my bike under the huge oak tree and sat down to observe. At some point, I retrieved a stray ball and threw it back to a player. A coach noticed me hanging around and invited me to join the girls. No glove? No problem. Just come play. By the end of the hour, I'd loaded up my bicycle into the coach's pickup truck and rode home with him (kids, don't ever do that). I ran into my house yelling, "Mom! Can I play softball? He says I'm really good!" The charming coach reassured my mother of all that was happening, and my softball career was born.
A couple of years later, one of our pitchers began to shine. Cherie had personality and potential. Always cracking jokes, she had a smile that lit up the dugout. And, it being the 1980s, her hair got bigger every year. Thanks in large part to her pitching, we won district in the 10-under and 12-under leagues, always qualifying for the state tournament and sometimes winning it. My trophy case got crowded and my ego soared. We really were good. I may not have been the star but I knew I added value to the team.
The year we all were 12, at the top of our age group, we knew we would have the best chance of dominating the league. Older, bigger, stronger, more experienced—we were excited to start practicing after spring break. Toward the end of that week off, my dad took me to lunch at Taco Bell. Nothing unusual about it—he lived across town and we took opportunities to see each other when I had time (busy pre-teen priorities got in the way sometimes). I never looked at that restaurant the same way again.
"Honey, you know how some of your softball friends went to the beach this week? Cherie and Wendy and their families?" Sure, I knew that. My step-mother worked with Cherie's mom, in a fun coincidence, so it didn't surprise me that Dad knew their plans too.
"Cherie drowned."