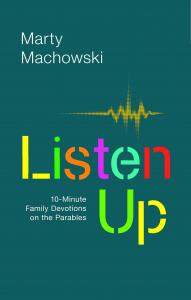 How can we help children understand Jesus's parables as more than mere morality lessons? Marty Machowski hopes parents and children will do this together using his new release, Listen Up: 10-Minute Family Devotions on the Parables. The pastor-turned-author continues to resource parents with biblically-based devotional content for families. Listen Up unpacks the sometimes-confusing parables of Jesus and breaks them into short, digestible exercises and readings suitable for children and youth.
Much like his 2016 release Wise Up (centered in Proverbs), Listen Up seeks to help children understand not only the lesson that Jesus was communicating but also the theological and historical context, along with practical ways to apply the truth in the readers' lives. When we say "Listen!" we don't just want people to hear what we say. We mean "Hear and do accordingly." Jesus emphasized action, too, when he would say, "He who has ears, let him hear" (Matt 13:9).
Content and Organization 
Machowski provides thirteen chapters, one per parable. Each chapter five devotionals for each parable. Additionally, each week included an introductory section called "Get Ready" and "Get Set," which preview the topic of the week, its action word, and the corresponding exercise. These exercises make elements of the parable more concrete. For instance, in the Parable of the Sower lesson, parents are encouraged to find sand and different-sized rocks, pass them around to each child, and discuss their characteristics. Hopefully, when they hear the scripture passage read aloud, references to sand and rock will provoke sensory memories and a more tangible understanding of how a house built on one or the other might stand or fall.
Within each parable, the scripture passage is printed (ESV version) within the chapter text—a convenience against wasted time and potential distraction. During each of the five devotionals per week, readers "listen up" by reading the parable itself, then "think about it" through a short commentary directed mostly at the parent. A quick Q&A called "Talk about it" follows, concluding with "Pray about it."
My Favorite Elements
Three things really stand out in this tidy workbook, but before I list those, understand that the author's theology stand firm, grounded in reliable, orthodox doctrine. Beyond that foundation, I appreciate the following characteristics in the book:
Structure: Listen Up sticks with a simple, easy-to-follow method. Thirteen chapters, each focusing on one parable and divided into five lessons. No calendar needed—a parent can move around the chapters out of order, or skip lessons for any amount of time without the book's structure messing them up. Start with any chapter at any time.
Tangible exercises: Found in each week's "Get set" introduction, these practical, creative ideas on how to bring elements of the story alive to children comprise some of the most memorable parts of the book. Our brains respond best to our five senses, and they affect our memory strongly. Kids of all ages will remember the feel of rocks and sand, or the fun of measuring their heights on the door frame, or the sensation of blowing (and popping) bubbles. Tie a theoretical lesson to a physical exercise, and we will remember it better.

 Fun Facts: Each chapter includes extra facts that relate to some aspect of the lesson but only in a tangential way. Trivia, history, word origins, science … these "did you know?"-styled extras will add to the experience—parents will probably learn something new, too!
I've been reading and reviewing Machowski's children's resources for several years. I have never found one I hesitate to recommend. Listen Up joins the rest…I may have been given this one freely in order to promote it, but my thumb's up comes from the heart. Families of all ages and sizes should do themselves a favor and add this to their shelves.