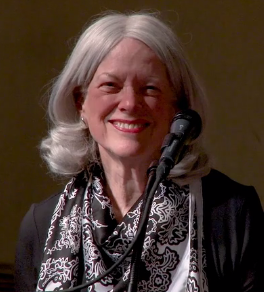 I am late to the game, apparently. An author I recently—as in, last month—discovered has been pastoring, teaching, and writing for over forty-five years. At 80 years old, she continues to wow audiences and readers with her thoughtful, astute insights into the preeminence of Jesus, the significance of the crucifixion, and divine implications in the Lord of the Rings (among other topics). At the Calvin Festival of Faith and Writing, this Episcopalian priest spoke several times to audiences enthralled with her deep, southern-laced accent, reflecting on her latest publication, The Crucifixion: Understanding the Death of Jesus Christ, which "has gone as viral as a 700-page theological magnum opus can."
Fleming Rutledge is my new theological crush.
Before the conference, I'd heard several friends refer to The Crucifixion as they read several books by speakers they hoped to hear. Gushing about a theological tome? This I had to see for myself. I had not buried myself in such a non-fiction work in several years, so I took up the challenge and downloaded it (easier to fly with). Currently I've completed only 20%, and I find myself frustrated at other reading responsibilities that interrupt it.
During one session, Rutledge ruminated on the art of sermon writing. She is a preacher, and a teacher of preaching, after all.
I suspect I will be searching online for her sermons for months. She exhorted us to remember that sermons should be written for the ear, as an oral communication form. Much like "Churchill mobilized the English language and sent it into battle" (a phrase originating from Edward R. Murrow, not JFK, she reminded us), so preachers must craft their sermons as proclamations of power, not mere exhortation. Words, and their placement within sentences, make the difference between "forgettable reflections and a speech event."
In another session, the silver, shoulder-lengthed-haired Episcopalian priest explained why she believed that the method of Jesus's death was just as important as the fact that he died. Here she displayed her incredible theological chops. A few snippets from my notes:
"Episcopalian theology was rejecting the atonement [the substitutionary aspect of Jesus dying in place of sinners to pay the price for their sin]. But I remained convicted that the crucifixion was central to our faith. . . ." (Hearing that a denomination had decided the Cross wasn't really about atonement surprised me, but I probably live in a bubble. I felt grateful for Dallas Seminary's firm orthodox stance on the subject.)

"The Cross itself—not just Jesus dying—was part of the 'mighty enterprise' of Easter. . . it wasn't just a terrible deed done by the Father to the Son. It was a triune action: all three persons of God were involved. We cannot divide the Trinity. They act together." (Answering a common, emotional objection to the Cross—affirming trinitarian truth.)

"People often mistake sin in the Bible as referring to misdeeds. No, sin is an independent, malevolent power that leads us to those misdeeds. Hence our need for a great deliverer."
As I read her magnum opus, I see these themes of sin, deliverance, trinitarianism, and atonement developed more deeply, and in an engaging, readable way (perhaps her most impressive quality). Her grasp of Scripture impresses and reveals the need for well-educated, thinking theologians to teach and write. Lest you think Rutledge comes across in a dry, intellectual manner, I invite you to watch the lecture below from last year. It will take a few minutes, about 40 in all, but the end … the end is so satisfying. Watch as she explores the post-resurrection events and why they apply to us today. You will see in her face and hear in her voice how much these sometimes-heady thoughts keep her heart beating in tune with Christ's. She's still in love with him, 80 years in.
And think with me on these things:
How do we value the power of the spoken word? Have we considered ways to talk about God that put the proper emphasis on him instead of us?
In what ways do we acknowledge and value the written word? Writers can't get lazy, for their writing will reflect it. If you write, how do you pursue excellence?
Readers make choices about what they visually ingest. Evaluate your reading choices. Do they glorify God, point you to him, communicate redemptive qualities?

Rutledge is one of, relatively speaking, few female professional theologians currently engaged in active ministry. Do you know any women or girls gifted intellectually and spiritually whom you can encourage to pursue ministry? Can you open doors for them, mentor them in the skills they'll need as communicators and pastors? The church needs her women leaders too.
Do you want to finish well? At 80, Rutledge continues to be enthralled with her Savior and serve him with her gifts. What can you do today to move toward a faithful finish in life?