The headlines announce, sometimes gleefully, that this administrator or that politician was fired, forced out, defeated. Some lost an election, but oftentimes an official was involved in something shady. So they suffered the consequences. But some leaders lose their positions because of what they don't do—act decisively upon reports of wrongdoing among his staff.
We understand that personal failure leads to personal consequences. If I did wrong, justice means that I may—and if so, deservedly—face censure or punishment in some form. American individualism likes to keep it one-on-one: the one who fails should be the one who suffers. But we also know that "no man is an island" and that our web of relationships means that one person's actions will always affect others.
Among the many qualities necessary for a successful leader, two stand out to me as crucial: humility and integrity. The lack of them screams from this week's headlines:
Spanish PM forced out of office:  I just happened across this story—I don't usually follow Spanish politics. But the reason Prime Minister Rajoy lost a no-confidence vote in Parliament? Because he "had failed to take responsibility for his party's involvement in the scandal" in which one of its treasurers was convicted of receiving bribes, money laundering, and tax crimes. The PM wasn't involved in the corruption scandal (that we know), but he didn't clean up his house when the scandal came to light. He did not take measures to correct the issues within his political party, nor to accept any sort of responsibility as its leader. Enough opponents banded together against him to force a vote, which resulted in his ouster.
Missouri Governor Eric Greitens resigned amid potential impeachment proceedings, the result of ethics complaints regarding campaign contributions. "The Missouri Ethics Commission continues to investigate a complaint that Greitens' campaign filed false documents about the charity donor list." He also faces allegations of sexual misconduct related to an admitted marital affair in 2015. He resigned to avoid impeachment and as part of a deal to drop a felony charge related to the charity donations. With his personal choice to violate his marriage, along with either complicity or carelessness with financial regulations, Greitens lost his position, his reputation, and possibly his marriage.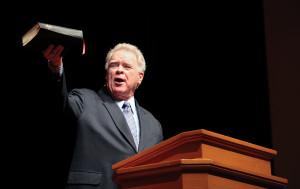 Paige Patterson stripped of seminary title and benefits:
 The seminary president was initially retired with honors after sermon recordings and stories of questionable advice regarding the respectful treatment of women made headlines. But a week later the seminary board of trustees fired him without benefits after further reports that he deliberately tried to squash stories from women students who had reported being raped by fellow seminary students. In
this letter
, the board chairman released further details explaining their unanimous decision to end all association with the man who had led the Southern Baptist Convention's "conservative resurgence" in the 1980s.
The furor surrounding Patterson's situation could have been defused (if not extinguished) with a heartfelt, specific apology that acknowledged his past mistakes and missteps. Instead he first denied having done anything wrong, then begrudgingly apologized for unspecified past insensitivity that may have hurt some. That exercise in futility revealed a belligerent attitude and unwillingness to be corrected. But on a deeper level, his behavior toward the women students who brought accusations of having been raped by male students unveiled a heart more concerned with power than with people. Even if one adheres to his theology and admires his decades of work in the SBC, Patterson's legacy will always bear a deep 
-shaped scar. His own board of trustees recognized the inconsistencies between his leadership in relation to women and the foundational gospel message of Christ. They made a difficult decision—unanimously.
We can't have our cake and eat it too when it comes to leadership. Our actions must reflect our stated beliefs and values. Inconsistency will find us out eventually.