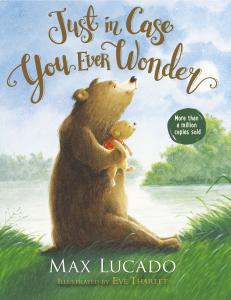 Some stories deserve to grace a new generation. Over 25 years ago America's pastor, Max Lucado, released a children's book that caught the imagination and hearts of millions. After selling 1.7 million copies, Just in Case You Ever Wonder is undergoing a makeover: Lucado's classic words now feature heartwarming and adorable art from illustrator Eve Tharlet. Same words, new images. And even though my kids are way past the age of having books read aloud to them, they will never outgrow the message of this book.
Showcasing the love between a parent and child, the story also reminds children of Jesus's unconditional love. Its opening page sets the tone:
"Long, long ago God made a decision—a very important decision . . . that I'm really glad he made. He made the decision to make you."
From the perspective of a parent, Lucado's words explain how God created each child special, and how he placed each one into the family he chose. And even though the child will grow and change, he or she can rest assured that:
"I'll always love you, I'll always hug you. I'll always be on your side. And I want you to know that . . . just in case you ever wonder."
In the same way, the story continues, God will faithfully love, protect, and provide—even more than a mere parent could. Through simple yet effective words, Lucado communicates the truth of God's love. It's a message that will never grow old, so breathing new life into it through Tharlet's friendly bear illustrations is a gift to today's children. They will love exploring the pictures. (They can even color along with these special downloadable coloring pages.)
Releasing on August 6 by Tommy Nelson Publishers, Just in Case You Ever Wonder will come in hardcover and digital format, with board books following in a few months. . . just in time for Christmas. Or for your oldest's first day of college . . . whatever!
*affiliate book links help support this website