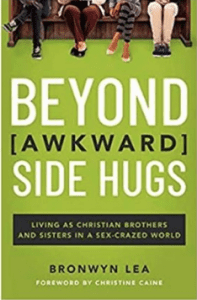 Men and women can be better than "just friends," says Bronwyn Lea, writer, wife, mom, and now author. They can be family—and she doesn't necessarily mean the married kind. When I heard about her new book,
Beyond Awkward Side Hugs: Living as Christian Brothers and Sisters in a Sex-Crazed World
, I felt an immediate kinship with my mostly-internet friend-with-a-divine-accent. After all, a decade ago I co-authored a book called
Mixed Ministry: Working Together as Brothers and Sisters in an Oversexed Society.
 (Note the similar subtitles.)
I "met" Bronwyn Lea somewhere over five years ago, through a previous job working with bloggers. She was writing good stuff, mostly in obscurity, but I related to her humor, theology, and mom life. Two years ago we finally met IRL (in real life) at a writer's conference, appropriately enough. A tall, vivacious presence, Bronwyn lights up the room with her smile and laugh. I think you'll get a sense of that in this interview as she shares why her book can encourage a more life-giving approach to relationships.
Your title includes an awkward word these days … and I don't mean "awkward." Hugs are mostly restricted, thanks to COVID-19. But your book, I think, is more relevant now than ever. What do you want readers to know about BASH?
I want readers to know this book is for them. For everyday Christians trying to live faithfully in real relationships. Not just for the super holy or the super struggling. But for the everyday-faithful who watch Netflix and trust the Bible but don't always see how their faith equips them to navigate the real-life situations they find themselves in. I think we all have a story of awkwardness to tell where we were misunderstood in a male-female interaction, or where we were afraid we would be so we avoided it altogether: I'd like us to have more tools in our conversational and relational toolkit when it comes to navigating relationships and community.
You ask the When Harry Met Sally question: can men and women just be friends? Men and women often have differing answers. How did you research this issue, and which variables proved most important to the answer?
This book was borne out of two decades of conversations with Christians from college age through their forties as I've served variously in college, young adult, women's, and pastoral ministry. I couldn't even begin to count how many people have sat in my kitchen or sent me an email and started a sentence with, "So, I've been reading this book about (whatever relationship/sexuality topic), and I'd love to talk to someone about it." The "research" for this book has been done over decades of conversation, scripture wrestling, and pastoral prayer. Of course I've had my own experiences to draw from on both healthy and unhealthy models of friendships with men, but at this point I've heard the stories of hundreds of others, too.
Reading Deb Hirsch's Redeeming Sex and Jonathan Grant's book Divine Sex were huge eye-openers to me as to *why* these questions kept coming up in discipleship and mentoring relationships, as well as revealing and challenging various assumptions we as a culture have made which do not serve us well in this topic: it's hard to have an "objective" conversation when we have a dozen unnamed presumptions we brought into the conversation without even being aware of it! So, becoming aware of the Freudian and radically individualist lenses through which our world (including the church) sees sexuality really helped me to see some contours where previously things had been blurry. And, perhaps more importantly, they spurred me to think about what a better way to think about male-female relationships. As it turned out, the "friendship" matrix hasn't served us well, but the family one does—and scripture has a ton to say about that. So I wanted to explore that further.