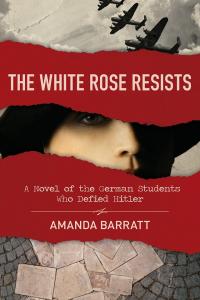 Historical fiction is my favorite genre. History major meets storyteller—the perfect combination of my two loves. Aside from inspiring interesting "what if's" and teaching famous and obscure historical events, sometimes the story and/or characters cause us to reflect on ourselves. We ask ourselves questions like: What was life really like back then? How would I react if I faced similar circumstances? How are those long-gone people just like me?
Amanda Barratt, author of My Dearest Dietrich: A Novel of Dietrich Bonhoeffer's Lost Love, returns to World War II for inspiration in her upcoming release of The White Rose Resists. I will let her tell the background of the two real women she brings to life in her new novel.
~~~~~~~~
Born only a year apart, Traudl Junge and Sophie Scholl were two women whose paths would not intertwine until after the end of the war that shaped both their lives. But the reverberations of the choices they made would echo throughout history, standing not only as a study of two unique individuals during wartime but as an exploration of courage and complicity.
While one woman worked for Hitler, the other defied him.
Traudl
In December 1942, Traudl arrived at Hitler's Prussian headquarters, known as the Wolf's Lair. When Hitler, infuriated by the decreasing stamina of the two women currently serving as his private secretaries, demanded his adjutant recruit a younger addition to his staff, Traudl, a twenty-one-year-old secretary at the Berlin Chancellery, was one of those summoned for an interview.
Out of the ten prospective secretaries, Traudl was the first to be interviewed. Pleased with her dictation test, Hitler hired her on the spot. "From then on," Traudl wrote in her autobiography, "except for a few weeks' holiday, there were very few days when I didn't see Hitler, talk to him, work with him or share meals with him."
By 1943, Traudl had fallen in love with Hans Junge, one of Hitler's valets. The couple married with Hitler's blessing and Hans left for the front, only to be killed in France a year later. In January 1945, with the end of the war approaching, Traudl joined Hitler's staff in the Führerbunker in Berlin. By April, despite Hitler's demand that his troops fight to the death, the Red Army had nearly reached the bunker. Hitler requested Traudl to type his last will and testament. Two days later, he committed suicide. Traudl escaped the bunker before the Red Army reached it, but was arrested in Berlin in July 1945. After months of interrogation, she was released from prison at the beginning of 1946.
Sophie
In her teens, Sophie Scholl had been a squad leader in the city of Ulm's division of the League of German Girls. But the longer she and her brother, Hans, witnessed Nazi indoctrination, the more they chafed at the government's increasing attempts to control their lives, extending to the books they read and the friends they chose. By the time the Scholls learned of the Reich's T4 euthanasia program, Sophie and Hans knew remaining silent bystanders was no longer an option.
In May 1942, Sophie, now twenty-one, traveled to Munich for her first semester at Ludwig Maximilian University, where Hans was already a student. Shortly after her arrival, she learned of Hans's plans to write, duplicate, and distribute anti-Nazi leaflets.
Despite the danger, Sophie immediately joined Hans and his friends in copying and distributing the Leaflets of the White Rose. Between June 1942 and February 1943, the White Rose authored a total of six leaflets and mailed thousands of copies to residents of Munich and other cities throughout Germany and Austria.
By mid-February 1943, the German army had lost the battle of Stalingrad and the White Rose took to the streets at night to paint three-foot-high slogans on public buildings—Freedom! Down With Hitler!—broadening the reach of their message of resistance.
On February 18, 1943, Sophie and Hans scattered 1,700 leaflets at the university while morning classes were in session. They were apprehended by a janitor, taken into Gestapo custody, and interrogated for seventeen hours. Finally, confronted with evidence found in their apartment, Sophie and Hans confessed, shouldering full responsibility. Another student, twenty-three-year-old Christoph Probst, was incriminated when the Gestapo discovered his draft for a leaflet in Hans's possession. On February 22, Sophie, Hans, and Christoph were tried by the People's Court, charged with treason, and sentenced to death. That very day, they were executed by guillotine.