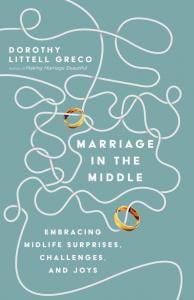 Dorothy Greco had already written a marriage book, but the professional photographer and writer found she had more to say. A mother of three young adults and wife for over twenty-five years, she realized her life-stage and experiences were not unique to her but that countless other couples—all over forty, with years of marriage behind them—struggled through the challenges that midlife brings. Marriage in the Middle offers frank honesty mixed with a profound hope for marriages that are struggling or just muddling through.
Dorothy shares more about her new book in this interview.
What is the book's premise?
Though many assume that "midlife" is synonymous with "crisis," it doesn't have to be that way. The demands of midlife actually force us to adjust and adapt, providing new opportunities for discovery and growth within our marriages. Marriage in the Middle will inspire and encourage you to invest in your relationship with your spouse, enabling you both to thrive as you face the challenges and changes of this era together.
What motivated/inspired you to write Marriage in the Middle?
Around the time Making Marriage Beautiful released, three of our friends' marriages unraveled. It was sobering and heartbreaking to watch. All three of the couples are believers and they all have children.
I want to normalize that midlife marriage is hard and we all need help from time to time. There's nothing shameful about saying, "We're in a hard place!" Admitting this is the first step to healing. By naming many of the challenges we face and including interviews where couples talk vulnerably about their experiences, my hope is to remove one barrier and offer some tangible hope and encouragement. Christopher and I believe that, though the losses and disappointments we face in midlife are notable and to some extent unavoidable, we can both enjoy our marriages and help them to grow stronger during this time frame.
What makes this book different from other marriage books?
It's written by a woman. Not many marriage books written for both men and women are authored by women!
It's rooted in Scripture but not religious.
There are no formulas and cliches. You won't find ten steps to a perfect marriage in either of my books.
It's fiercely honest, yet profoundly hopeful.
I include interviews with eight diverse couples rather than creating straw couples that neatly fit into a box. There's a rawness to the interviews that I find incredibly inspiring.
My personal perspective is that men and women are created by God as equal co-heirs.
Tell us what's included in this book.
Pretty much everything we face and wrestle with in midlife marriage. The chapters include:
how caregiving and aging affect our marriage,
how trauma and loss affect our marriage,
how disappointment can help us grow,
how attachment issues affect our intimate relationships,
sex,
the importance of healthy friendship and community,
the necessity of engaging our imaginations as we think about and plan for the final chapter of our lives.