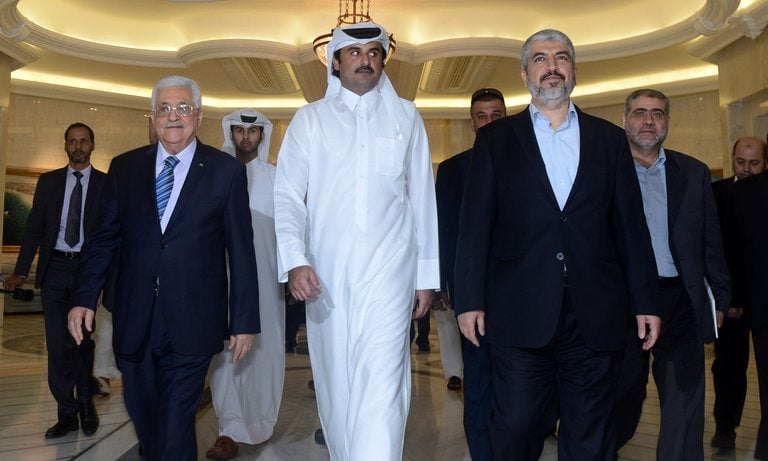 Yesterday, three Palestinian leaders met in Qatar with its emir, Sheikh Tamim bin Hamad al-Thani, to attempt reconciliation after ten years of feuding. In recent years, Qatar has tried to help Palestinians achieve their aspirations, which is to establish a Palestinian state in the West Bank and Gaza Strip. But the division between the Palestinian Authority, which controls Palestinians living in the West Bank, and Hamas, which governs those in the Gaza Strip, has negatively affected the peace process with Israel. These two Palestinian factions had attempted unification two years ago, but it fell apart. When they did this, Israeli Prime Minister Benjamin Netanyahu withdrew Israel's participation in the peace process, effectively ending it. Both Israel and the U.S. regard Hamas as a terrorist organization, and they do not negotiate with such groups.
The three Palestinian leaders were Palestinian Authority President Mahmoud Abbas, Gaza Prime Minister Ismail Haniyeh, and Hamas' political chief Khaled Meshal. The impetus for this meeting was that Abbas had canceled elections, scheduled for last October 8th, in an effort for the two factions to unite for these elections to be held next year. Meshal recently announced that he will not run for the office of Prime Minister in Gaza, so that incumbent Haniyeh will likely continue in authority there. Last month, Meshal said publicly concerning Hamas' militant takeover of the Gaza Strip from the Palestinian Authority in 2006, "Hamas made a mistake when it thought it was easy for it to rule the Gaza Strip alone. It thought that ruling Gaza would be easy, but discovered that it was hard."
Indeed, Israel and the U.S. condemn Hamas for occasional rockets fired from Gaza into Israel; yet Hamas does not have complete control of its citizens in preventing such things.
It remains to be seen if this attempt at reconciliation will hold between the Palestinian Authority and Hamas. If it does, it surely will strengthen Palestinian resolve to achieve a Palestinian state.
Yet there has been a growing consensus in recent months among both Israelis and Palestinians that the common two-state solution is dead. Will this unification of Palestinians revive that two-state solution? Or will there arise an alternative to it, such as the one I propose in my book, Palestine Is Coming: The Revival of Ancient Philistia?