A stump is the bottom of a tree that protrudes a little above ground after its entire upper portion has been severed and fallen to the ground. That's Donald Trump as of yesterday when The Washington Post and NBC released a 2005 audio-video of Donald Trump taped by Access Hollywood in which he and Billy Bush, host of Access Hollywood at that time, were riding in a bus and Donald Trump used vulgar language in describing his philandering, which some are now calling his assault of women.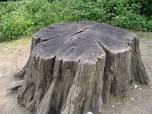 With one month left before the U.S. presidential election, until a few days ago Donald Trump, the Republican nominee, was locked in a virtual tie with Hilary Clinton, the Democratic nominee. But the momentum began to swing in Hilary's direction when, a few days ago, she won the first of three scheduled, televised debates between her and Donald.
Last night, the Trump political campaign tried to stop the bleeding by issuing an audio-video of its own in which Donald Trump made a so-called "confession" that included, "I apologize if it offended anybody" regarding his sexual remarks. Of course, that is not an apology.
Republican politicians, who had until the past 24 hours been supporting Donald Trump, are scrambling to jump off the Trump Train. And finally, Republican Senator John McCain, from the state where I live, Arizona, just hours ago withdrew his support of Trumpster. McCain said in his public statement of his wife and himself, "Cindy and I will not vote for Donald Trump."
Many Republican politicians are either doing as McCain has now done regarding Trump–withdrawing their support of him or calling for his resignation from the race. I had been put out with McCain, the Republican nominee for U.S. president in 2008, when earlier this year Donald Trump belittled him as a POW five years during the Viet Nam War. What a hypocrite Donald Trump; I posted about him, suggesting he may have been a draft-dodger.
Forget the House of Representatives; here is a list of U.S. Republican senators who so far have called for Donald Trump to quit the race: Nebraska Senator Ben Sasse, Idaho Senator Mike Crapo, Arizona Senator Jeff Flake, Utah Senator Mike Lee, South Dakota Senator John Thune. The Trump Train is flying off the tracks, and I don't think anyone, including The Trumpet himself, can get sound off loud enough to deceive enough people to get it back on track.
But as I said in my earlier post today, entitled "America Deserves Better," it is not in The Donald's DNA to quit. For he told the Wall Street Journal earlier today, "I never, ever give up," and there is "zero chance I'll quit."
Then the narcissistic wind bag exclaimed, "The support I'm getting is unbelievable." Uh, it's you, Donald Trump, who is unbelievable. Give it up and get out.
The Trumpster, who should be in the Dumpster, forewarned in last night's confession that tomorrow night, in the second debate between him and Hilary, he will attack in full force Hilary's husband Bill (the U.S. president in 1993 to 2001) for his philandering as well allege that Hilary was an enabler of it. I think it may be the most degrading event in the history of U.S. politics. Trump's slogan, Make America Great Again, is surely becoming Make America Degraded Again.