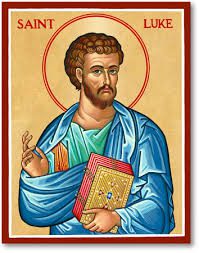 In recent decades, New Testament scholars have given Saint Luke his due honor. As the author of the Gospel of Luke and the book of Acts, Luke authored even more of the New Testament than did the Apostle Paul, thus more than any other NT author. These two ministered together multiple times during some of Paul's missionary journeys. A close, critical reading of all the NT material produced by these two men, Luke and Paul, reveals that they never expressly indicate or proclaim therein that Jesus was God as the subsequent, institutional church did. We will now examine some texts in the Gospel of Luke and Acts which indicate that Luke could not have believed that Jesus was God. Some of the primary evidence that Jesus is not God is that God favored Jesus, was pleased with him, and attested his life so that God gave Jesus the power of the Holy Spirit in order to accomplish all of his miraculous deeds.
Luke probably was a Gentile and thus the only Gentile author of the NT material. He begins his gospel by telling its recipient, the "most excellent Theophilus," that he, Luke, had "undertaken to set down an orderly account of the events that have been fulfilled among us, just as they were handed on to us by those who from the beginning were eyewitnesses and servants of the word" (Lk 1.1-3 NRSV and throughout). So, Luke explains that much of his information that he had gathered–which by then represented trustworthy oral tradition–came from eyewitnesses who saw and heard Jesus.
It is only Matthew and Luke that include in their gospels a birth narrative about Jesus (Matt. 1.18–2.23; Lk 1.5–2.40). Luke says the angel Gabriel appeared first to Zechariah, soon-to-be father of John the Baptist, and six months later to Mary, soon-to-be mother of Jesus. Gabriel said to Mary, "Do not be afraid, Mary, for you have found favor with God. And now, you will conceive in your womb and bear a son, and you will name him Jesus. He will be great, and will be called the Son of the Most High, and the Lord God will give him the throne of his ancestor David…. The Holy Spirit will come upon you, and the power of the Most High will overshadow you, therefore the child to be born will be holy; he will be called Son of God" (Lk 1.30-32, 35).
Two pieces of evidence from this pre-announcement of Jesus' birth show that Luke did not think this Jesus, who was to be born, preexisted as a distinct divine personality and came down from heaven to take flesh and become a man. (What I am saying here is not the same as saying what the Gospel of John says, that "the word became flesh" [John 1.14] if you believe as I do that that "word" [logos] was not a distinct personality. Rather, that logos can be described as the expression of God's mind.)
The two pieces of evidence are that Gabriel (1) clearly distinguishes between Jesus and "the Most High," who he also identifies as "the Lord God," and (2) Jesus will be called both Son of the Most High and Son of God. Regarding the first evidence, Jesus cannot be God if there is only one true God, since this God is here distinguished from Jesus. Both Christians and religious Jews claim to believe there is only one true God. Regarding the second evidence, Luke obviously means that Jesus is Son of God on the basis of his Virgin Birth, thus not on the basis that he preexisted as a Logos-God personality that came down from heaven to take flesh and thus become a God-man.
When Jesus was born, Luke says an angel appeared in glory to shepherds in the field nearby (Luke 2.6-8). Luke says, "Then an angel of the Lord stood before them, and … said to them, 'Do not be afraid; for see–I am bringing you good news of great joy for all the people: to you is born this day in the city of David [Bethlehem] a Savior, who is the Messiah, the Lord. This will be a sign for you: you will find a child wrapped in bands of cloth and lying in a manger.' And suddenly there was with the angel a multitude of the heavenly host, praising God and saying, 'Glory to God in the highest heaven'" (vv. 9-13). Again, these angels distinguish between Jesus and this God who dwells in heaven. Notice that the first angel identifies Jesus as "Savior, who is the Messiah." That is to be the good news that people should afterwards proclaim about Jesus, not that he is God.
Then Jesus was brought to the temple for circumcision on his eight day (Luke 2.21-22). Luke says of an elderly, righteous man named Simeon, "It had been revealed to him by the Holy Spirit that he would not see death before he had seen the Lord's Messiah" (Luke 2.26). Again, Jesus is not identified as God but as the human Messiah of Israel.
Luke then relates the only story in the Bible about Jesus' youth, when his family attended Passover at the temple in Jerusalem and they lost the twelve-year old Jesus as he was asking questions and conversing most intelligently with the Torah teachers (Luke 2.41-51). Then Luke provides this summary statement, "And Jesus increased in wisdom and in years, and in divine and human favor" (v. 52). Thus, Jesus was not only growing physically but also in favor with God. That is not possible if Jesus was God.
Like the synoptists, Luke records John's baptism of Jesus in the Jordan River (Luke 3.1-22). Also likewise, Luke says, "when Jesus also had been baptized and was praying, the heaven was opened, and the Holy Spirit descended upon him in bodily form like a dove. And a voice came from heaven, 'You are my Son, the Beloved; with you I am well pleased" (v. 22). Why was Jesus baptized with the Holy Spirit if he was God? That is, what need did he have of this anointing if he was God? And it would be very axiomatic for God to say he was well pleased with Jesus if he, too, was God.
Luke is most known in his gospel for telling about various incidents in which the Holy Spirit acted in the life of Jesus during his ministry. (On this, see a whole chapter in my book Solving the Samaritan Riddle.) For example, we read that after he was baptized by John, "Jesus, full of the Holy Spirit, returned from the Jordan and was led by the Spirit in the wilderness, where for forty days he was tempted by the devil" (Luke 4.1-2). Of course, if Jesus was God he could not really have been tempted because James, Jesus' brother, writes, "God cannot be tempted by evil" (James 1.13).
Luke recounts the devil's three temptations of Jesus and then says, "Jesus, filled with the power of the Spirit, returned to Galilee" (Luke 4.14). Luke relates that Jesus soon went to the synagogue on the sabbath and read before the congregation from Isaiah in the scroll as follows: "The Spirit of the Lord is upon me, because has anointed me to bring good news to the poor" and etc. (v. 18). Jesus then gave the scroll back and said, "Today this scripture has been fulfilled in your hearing" (v. 21). He meant that it applied to him. So, this text meant that God anointed Jesus with God's Holy Spirit. But if Jesus was God, he didn't need any anointing of the Spirit.
Then when Jesus was crucified, died, and arose from the dead, he appeared to his band of disciples and explained, "Thus it is written that the Messiah is to suffer and to rise from the dead on the third day, and that repentance and forgiveness of sins is to be proclaimed in his name to all nations, beginning from Jerusalem" (Luke 24.46-47). So, Jesus here identifies himself as Israel's Messiah, not as Israel's God which Martin Luther proclaimed ("I know of no other God than one called Jesus Christ"). And Jesus affirms the angel's identification of himself as "Savior"–referring to his dying on the cross for our sins–by saying sins will be forgiven in his name.
Finally, what about the book of Acts? I could go on and on with this theme in that book. For instance, of all of the over twenty evangelistic sermons which Luke records in bits and pieces therein, they never identify Jesus as God whereas the thrust of many of them is to tell who Jesus was. For example, Luke's first sermon that records in Acts is the Apostle Peter's first sermon that he probably ever delivered in his life. It was on the first day of Pentecost following Jesus' ascension to heaven only ten days prior (Acts 1.9-11; 2.1). Peter, empowered by the Holy Spirit, proclaimed to the thousands of Jews listening him, "You are Israelites, listen to what I have to say: Jesus of Nazareth, a man attested to you by God with deeds of power, wonders, and signs that God did through him among you" (v. 22). I ask, how can Jesus be God if he was "a man attested … by God"? NO WAY! Jesus did not do all of his miraculous deeds by some intrinsic power peculiar to himself as a deity but as his God worked through him with the Holy Spirit.
Now, many Christians who believe Jesus is God will respond to what I have said thus far by claiming that these biblical texts about Jesus apply only to his humanity and thus not to his supposed deity. But there is nothing in the NT about this let alone that Jesus even has two natures–a human nature and a divine nature–as this view presupposes. That is reading something into the sacred text that is not there. Did not God say in holy writ, "Every word of God proves true;… Do not add to his words, or else he will rebuke you, and you will be found a liar" (Proverbs 30.5-6). I think Saint Luke would utter "Amen."
…………….
To see a list of titles of 130+ posts (2-3 pages) that are about Jesus not being God in the Bible, with a few about God not being a Trinity, at Kermit Zarley Blog click "Chistology" in the header bar. Most are condensations of my book, The Restitution of Jesus Christ. See my website servetustheevangelical.com, which is all about this book, with reviews, etc. Learn about my books and purchase them at kermitzarley.com. I was a Trinitarian for 22 years before reading myself out of it in the Bible.