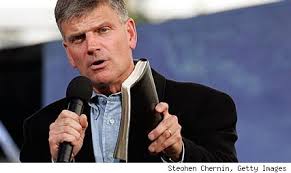 People who read my blog regularly may know that I sometimes remark about my friend Evangelist Billy Graham, who I think may have been the greatest man of God in the twentieth century. His son, Franklin Graham, has continued somewhat in his father's footsteps by conducting Christian ministry of his own for decades. But in recent times, Franklin has been taking positions on moral and cultural issues and making statements about them that have discredited himself among probably a majority of Americans and not a few devout Christians. This week, I think he continued in the same path.
(It should be noted that Billy Graham and his family lived a long time in Montreat, North Carolina, thus in the South. However, Billy Graham was an important figure in America often spoke out for equal treatment of people no matter their ethnicity or creed. And early in Billy's ministry, he invited all people to his city-wide crusades.)
The city of Charlottesville, Virginia, had voted to remove its statue of Robert E. Lee, leading general of the Confederacy. A demonstration occurred that turned violent. White nationalist and neo-Nazi groups initiated violence, and some protestors against them fought back. The result was one death and twenty people injured. President Trump then made three speeches over about five days. In his first and third speech–which were extemporaneous whereas his second speech was entirely from prepared remarks–President Trump said there was equal blame on both sides. These remarks about this incident have resulted in a huge exodus of titans of commerce from Trump's advisory panels and criticism from members of Congress in the president's own party, Republicans, and many other elites, including four top generals. It has ignited a firestorm crisis for the Black House that I doubt can be mended.
Yet, Franklin Graham sounded off about it on Facebook this week as follows:
"Shame on the politicians who are trying to push blame on President Trump for what happened in #Charlottesville, VA. That's absurd. What about the politicians such as the city council who voted to remove a memorial that had been in place since 1924, regardless of the possible repercussions? How about the city politicians who issued the permit for the lawful demonstration to defend the statue? And why didn't the mayor or the governor see that a powder keg was about to explode and stop it before it got started? Instead they want to blame President Donald J. Trump for everything. Really, this boils down to evil in people's hearts. Satan is behind it all."
Yes Franklin, maybe you are right about what city politicians could have done. But that does not let President Trump be irresponsible for his unwise, and many claim "racist," remarks about the incident. Mr. Graham, you are again on the wrong side. And you are not the only evangelical leader who has taken such a supportive position of the president on this matter. I think it discredits evangelicalism.