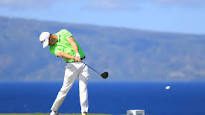 Twenty-four year old Justin Thomas won the PGA Championship–the fourth and last major of the year in pro golf–for his fourth win this year on the PGA Tour and his first major win. The young guys are taking over pro golf almost as much as the young girls are taking over ladies pro golf. Thomas shot a three-under par 68 today for an eight-under par total of 276.
Thomas won by two strokes over three players: Louis Oosthuizen, Patrick Reed, and Francesco Molinari. Thomas birdied the two long par-three holes on the back nine–the 13th and 17th–that set up his win. Yet he failed to birdie the two easy birdie holes–the 14th and 15th. But it didn't matter as other players, including Japan's sensation Hideki Matsuyama, failed down the stretch on the Green Mile. That is what the last three, difficult holes–16, 17, and 18–are called at Quail Hollow in Charlotte, North Carolina.
Justin Thomas has now arrived as one of the hot stars in pro golf. He has four PGA Tour wins already this year, which is most. And he does it with a mighty whack at the ball. Justin Thomas is pound-for-pound the longest hitter at the highest level in professional golf. Standing 5 feet, 10 inches tall and weighing only 145 pounds, he hits drives that carry 320 yards or more. Amazing.
In analyzing Justin Thomas' golf swing, notice in the accompanying photo how he keeps his head down so well, still looking at where his ball was teed up, after he has hit the ball with his drive. His left leg is very straight as he rotates his hips, creating much clubhead speed. Also in this photo, taken as few feet after his club head struck the ball, his arms are fully extended to the maximum, with the club shaft pointing between his arms. Maximum extension with straight arms after impact produces maximum ball speed.
Justin has a very good golf swing. He swings the club in plane very well. My only criticism of his full swing like this is two-fold: (1) he dips his head in the impact area, which can create too many off-center hits on the clubface,  and (2) he has his left heel off the ground at impact, sometimes extraordinarily so as Bubba Watson does. However, both of those guys are such long hitters, and the left heel off the ground can be a result of the effort to generate that much clubhead speed.
But especially on golf courses that demand much accuracy, it is better to leave your left heel on the ground throughout the forward swing and finish with at least 90% of your weight on your left foot (for right-handed golfers). If you can't finish that much on your left side without hitting the ball right of your target, you need to do one or both of two things: (1) shift ample weight to your right foot on your backswing, and (2) let the clubface turn over on the follow through without being flippy-wristed. Concerning the former, don't worry about the upper body (head) moving back from the address position on your backswing.
Some of the best ball strikers ever in golf, especially the best–Ben Hogan–moved their upper body back on their backswings in order to be able to move their upper body considerably forward on the follow through and thus finish with 90% or more of their weight on their left foot. Of course, measuring the amount of weight shift in the golf swing by how much the upper body moves along a parallel of the target line depends on how wide your stance is. That is, with a wide stance the upper body should move more. A prime example of this was Moe Norman, whom most of my peers in my day thought was the second best ball striker to Ben Hogan. So, keeping your head still through your golf swing on your long shots is a myth, unless you stand with your feet together. But then you will lose much distance.