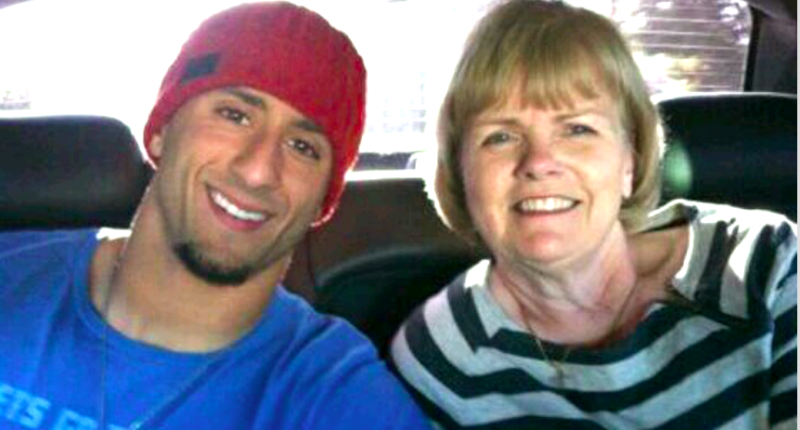 Colin Kaepernick is the former San Francisco 49ers football quarterback who received national attention last year when he kneeled before the 49ers nationally televised football game while the national anthem was being played. He did it as a silent protest to recent incidents in the U.S. of police brutality and unjust treatment of minorities, some even resulting in killing of blacks. Colin is black, but he doesn't look like it much.
Colin Kaepernick is an adopted child by his white mother, Teresa. Colin and Teresa are Christians. Colin attended college at the University of Nevada in Reno, and he lives there in Reno. Colin's dad says Colin attends a Baptist church there.
Last Friday, President Donald Trump attended a political rally in Huntsville, Alabama, and spoke publicly. He denounced NFL football players who bow the knee at games during the national anthem. The president claims it is a disrespect of Flag and Country. But Colin and other NFL players who have done it now claim its is not disrespect but an call for national attention about our racial problem. The president said to the Alabama crowd, "Wouldn't you love to see one of these NFL owners, when somebody disrespects our flag, to say, 'Get that son of bitch off the field right now, out, he's fired. HE'S FIRED!'"
It caused a huge controversy last weekend. In several nationally televised NFL games, players stood on the sidelines with locked arms together when the national anthem was played in demonstration of solidarity regarding their belief that the nation needs to further address its racial inequality. No doubt many of the players also did so in objection to President Trump's remarks last Friday. President Trump then attempted to defend himself in a volley of tweets the few past days.
Colin Kaepernick is a talented quarterback. At the University of Nevada, he was Offensive Player of the Year in the Western Athletic Conference two years and set the record in passing yards and rushing yards. He began his pro career with the 49ers in 2012 as a backup quarterback. When Alex Smith suffered a concussion mid-season, Colin led the team to the Super Bowl that year. At the end of the 2016 season, Colin opted out of his contract and has unwillingly remained a free agent this year. Experts say he's being shunned by NFL owners because of his kneeling demonstrations.
Teresa Kaepernick afterwards said in response to the president's words in Alabama, "Guess that makes me a proud bitch." Mother Teresa should have tweeted that to the president.
Colin Kaepernick has tattoos. He is most proud of his first tattoo. It is a Bible quotation from Psalm 18:39 that says, "You are armed with strength for battle; you made my adversaries bow at my feet." Colin explains, "Basically, it's saying the Lord is giving me all the tools to be successful, I just have to go out and do my part to uphold that."
The Bible's book of Psalms consists of 150 psalms. Half of them were authored by Warrior-King David of Israel. One of Jesus' titles in the New Testament is "Son of David," referring to King David. According to the New Testament, Jesus arose from the dead, ascended to heaven forty days later, and literally will return to earth in what is still the future. Bible prophecy relates that when he does, he will come as a warrior-king, like David, to destroy the Antichrist and his armies who are annihilating Israel. Previous to that, the NT says this Antichrist will put to death many millions, if not billions, of Christians because they refused to worship this man as a god by bowing to him or his idol and receiving his mark or name on their hands or forehead as a tattoo. See my book, Warrior from Heaven (2009).
Psalm 18 begins, in the New Revised Standard Version, "I love you, O LORD, my strength. The LORD is my rock, my fortress, and my deliverer." David also says in this psalm, "The LORD rewarded me according to my righteousness" (v. 20). David also says of God, "He made my feet like the feet of a deer, and set me secure on the heights. He trains my hands for war, so that my arms can bend a bow of bronze…. I pursued my enemies and overtook them; and did not turn back until they were consumed. I struck them down, so that they were not able to rise; they fell under my feet" (vv. 33-34, 37-38). The next verse, v. 39, is the one Colin has tattooed on his body. It reads, "You are armed with strength for battle; you made my adversaries bow at my feet."
I don't know what Bible version Colin used. I checked several major ones, and he has used some other. But they all say the same thing, just with a little different wording.