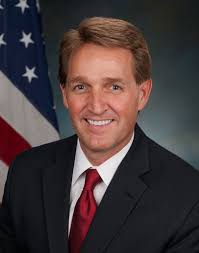 Well, it's old news by now, but I thought I would just say something about it anyway. Senators Bob Corker and Jeff Flake are going at it against President Donald Trump, and all three are Republicans. They are critical of him as president just as I have been on this blog for at least the past 18 months, with about 100 posts about it.
Both Corker and Flake announced they will not seek re-election next year. Flake delivered a speech in Congress yesterday that I thought was excellent, perhaps even historic. Trump responded by saying both men would not have gotten re-elected anyway, which may be true. Corker had always said he would only serve as U.S. senator for two terms. And Flake said it is difficult to get re-elected if you are publicly opposing the President, a member of your own party. But I doubt this will be the end of Jeff Flake's political career after he finishes his term in January, 2019.
I have mentioned before on this blog that I like to read the column of editorial columnist Robert Robb of The Arizona Republic since I live in Arizona. Robb's column today (now yesterday since the clock just went past midnight) is entitled "Flake opts out of the Trump era." He begins, "I have known Jeff Flake for a very long time.
"I was a member of the Goldwater Institute's executive committee that brought him back to the state to run the think tank in 1992. We worked closely together in those capacities until I left to become a newspaper scribbler in 1999 and Flake left to become a congressman in 2000.
"I know this: Flake isn't afraid of a political fight. And he's not afraid of taking on a losing cause, which I think it was premature to conclude was his inevitable fate in his re-election bid.
……..
"The principal problem with Trumpism is Trump. Actionable political consensus isn't forged through Twitter invectives. A politics in a constant state of tumult isn't conducive to getting things done. The politics of attack, attack, attack exhausts and corrodes the civic soul.
"Jeff Flake is a good, decent, honest and honorable man. The space for such people in American politics has always been small. Trump is making it even smaller." [End]