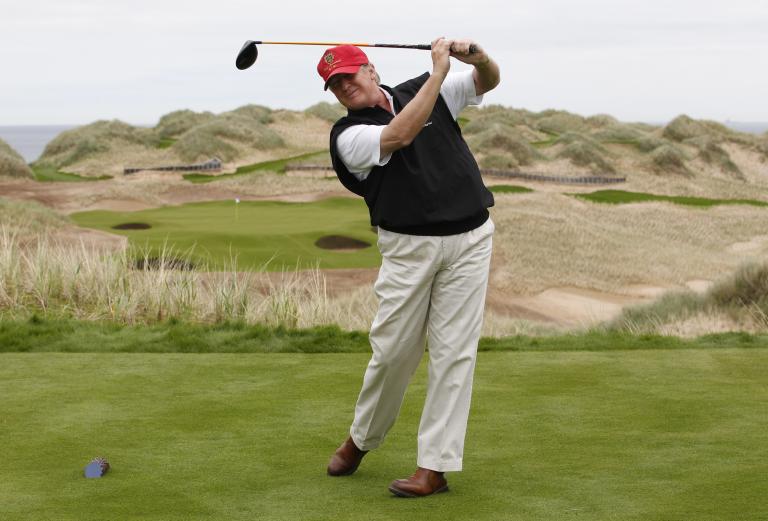 When Donald Trump was campaigning for the U.S. presidency, he criticized then U.S. President Barack Obama for playing too much golf. He insinuated that Obama was neglecting his duties as president. What a load! Trump's golf-playing as president has so far revealed that you can't believe this man's word.
Mark Knoller of CBS News keeps detailed statistics of U.S. presidents, including about their golf. He says during President Obama's two-term U.S. presidency, he played golf 333 days during those 2,848 days in office.  Now, that is, indeed, comparatively quite a bit of golf for a U.S. president. Still, it didn't even make him a weekend hacker; instead, that was one round of golf every 8.5 days.
Previous U.S. President George W. Bush was a little better at golf than Barack Obama was. And I think he had been more of a golfer during his life prior to his presidency than Barack was. Yet George W. played only 24 rounds of golf during his eight-year presidency. That is only one round of golf ever 17 weeks. George restricted his golf playing after October, 2003, when he was criticized in the media for playing too much golf as the nation was at war (in Iraq).
Donald Trump owns many golf properties with his name on them. Most of them are lavish hotel resorts with championship caliber golf courses. And he has played a lot of golf at many of these properties.
Just over two months before Donald Trump won the presidential election, in August, 2016, in a campaign event he criticized then President Obama for playing too much golf and then added, "If I win [the presidential election], I may never see my property. I may never see these places again. But because I'm going to be working for you [American voters], I'm not going to have time to go golfing, believe me. Believe me. Believe me, folks."
That shows how much you can believe Donald Trump. He has now been the U.S. president for ten months. Being exact, it's 309 days. Today, he played golf with pro golf superstars Tiger Woods and Dustin Johnson [bragging about that] at Trump International Golf Club in West Palm Beach, Florida. It was the 81st day since he has been president that he visited one of his own golf courses. That means he has been at a Trump golf course one of every four days during his presidency. His administration's staff refuses to divulge every time he visits his golf courses whether or not he plays golf. But most of those times, he has golfed his ball.
Now, to compare the golf playing of Obama and Trump while president, we can only go by what is, not what will happen in the future. And Barack Obama played less golf during his first ten months in office than he later did. Thus, Michael Knoller claims that during President Trump's first ten months in office, he has tripled the number of times he has played golf compared to the number of times President Obama played golf during his first ten months in office.
That shows how much you can believe Donald Trump. You'd think he would reduce his golf playing schedule just to keep from looking like such a Bozo about his word. But obviously, unlike George W. Bush when he was president, Trump doesn't care because he has no conscience! That's why I entitled my last post about him, "Donald Trump Is Full of It."
Some of my blog readers criticize me for calling out President Trump like this. Well, I'm sure not alone. And the list of us critics is growing by leaps and bounds. Plus, President Trump and his administration are under investigation for possible colluding with the Russian government in winning the presidency. That is some serious business, there. I believe that several times he has obstructed justice regarding this investigation and that that may more than haunt him. Only time will tell where this all leads. Treason is a possibility.
Why do I so criticize as a Christian, moreover, as a teacher of the Bible? As I have repeatedly answered, just read the Bible prophets. And for our democracy to survive, citizens need to speak out when necessary by requiring accountability from our leaders. That includes upholding the Constitution, which President Trump swore to to do when he took office. Besides his constant lying, President Donald Trump has been bashing our news media, intelligence agencies, and many other institutions that are foundational to our democracy. And he is creating a bad image as president, setting a poor example for young people, by conducting uncivil discourse that includes constant derogatory, even hostile, name calling of his critics. It's like a dictator! We voters ought not allow this to continue if we want to preserve our democratic way of life.