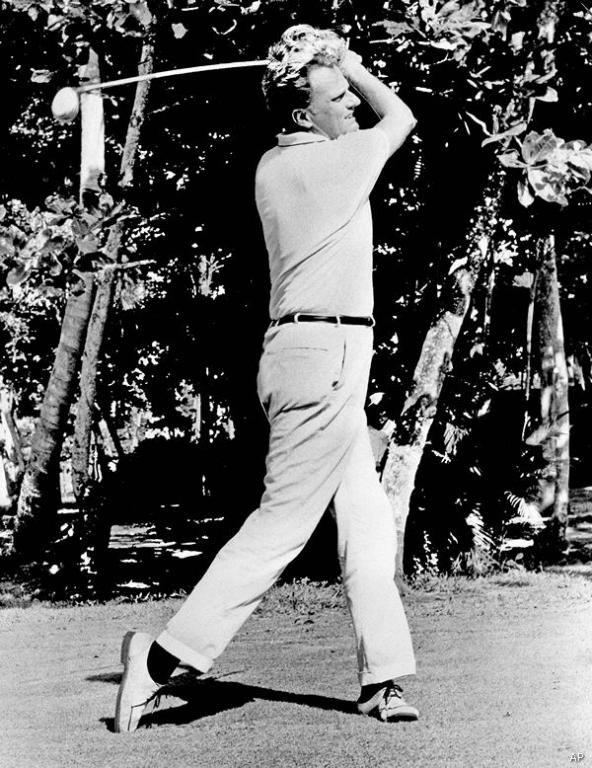 Last Wednesday, Evangelist Billy Graham died of natural causes at his home in Montreat, North Carolina. He was arguably the greatest religious figure of the twentieth century. In our world of scandals that seem to emerge everywhere about famous people, including religious leaders, Billy Graham was untainted. He and his three closest associates in ministry–Cliff Barrows, George Beverly Shea, and Grady Wilson–were a close-knit group that kept each other accountable and remained a team throughout Billy's entire career. That, I think, was a testament to God in itself.
I have blogged about being one of the, no doubt, millions of friends Billy Graham had. He spoke to our PGA Tour Bible Study group four different times, and one time we had dinner Billy spoke at in Atlanta in which about half of the pros playing that tournament attended. All of this happened partly because Billy Graham had been a golfer all his life since his teens. But it was also because he sometimes participated in pro-amateur events conducted at PGA Tour tournaments on Wednesday, the day before the tournaments began. Billy did this various years in the PGA Tour tournaments at especially Atlanta and Charlotte. He was born and raised in Charlotte.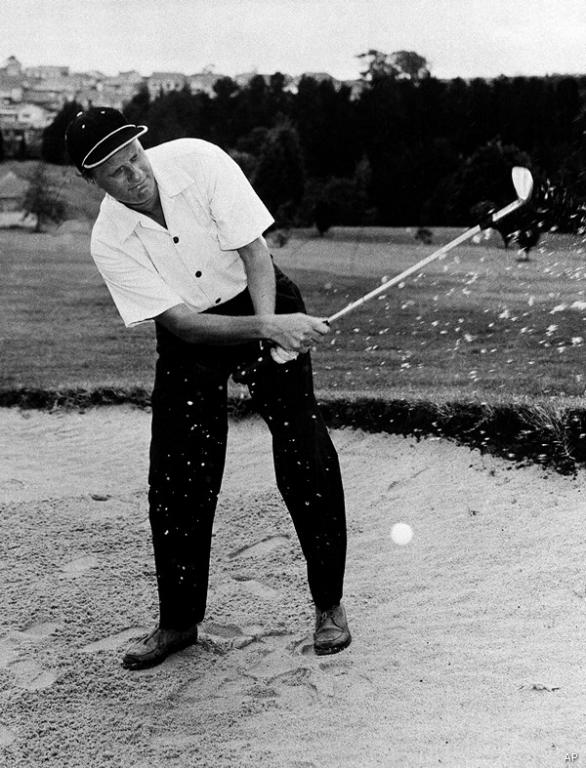 In my day, Billy Graham had a very odd style playing golf. He played golf cross-handed. The right way to play golf for right-handed players is to grip the club with your right hand below your left hand. Billy was right-handed, but he gripped the club with his left hand below his right hand. When golfers try to hit a full shot that way, they feel like they are going to break their wrists!
However, nowadays, about half of all pros on the PGA Tour putt cross-handed. That is perhaps the biggest change that has occurred in recent decades about how Touring pros golf their ball. But they only do that with their putter. No one hit the other clubs cross-handed, that is, except Billy Graham and a very few other oddballs out there on the links. (However, I grew up playing junior golf in Seattle, and my friend Art Peterson, who played cross-handed with all clubs, were outstanding junior golfers in our state.) Billy always said the pro at his golf club in Montreat tried to get him to change, but he couldn't do it. I used to like to say that Billy Graham spent his life preaching spiritual conversion to faith in Jesus Christ, but he himself couldn't get converted to the right way to golf your ball on the long shots.
The following are some posts I've written here on this blog about Billy Graham:
"'Mr. Witney Was Right. I'm Nothin' But a Country Preacher'–Billy Graham."
"I Asked Billy Graham, 'What's It Like for You to Attend Church?'"