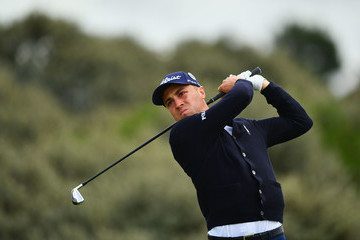 Long-hitting Justin Thomas–Player of the Year last year on the PGA Tour–won the first sudden-death playoff hole against Luke List just minutes ago in the PGA Tour's The Honda Classic at PGA National's Champion Course in Palm Beach Gardens, Florida. It was Thomas' eight PGA Tour win. List is still searching for his first win.
Luke List was the sole leader by one stroke over Justin Thomas starting this final round today. Midway through the last nine holes, both players were tied with Tommie Fleetwood at seven under par total on this tough, par 70 course. Fleetwood dropped behind to finish in fourth place, one stroke behind Alex Noren, in the clubhouse at 7-under 273. Noren could had made the playoff if not for a bad break on his second shot on the 18th hole. His ball finished in downhill rough near the greenside bunker.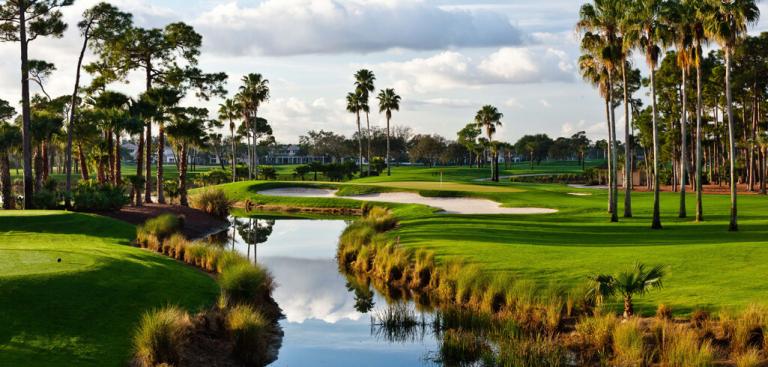 Thomas and List were playing together in the last group. Both hit the longest drives of the day on the par five 18th hole. Sweet-swinging Luke List was perfect, right down the center of the fairway with a 4 iron to the green. But Thomas was in the right rough. List played first, hitting a perfect four iron at the hole that went past about twenty-five feet, leaving himself a putt for an eagle three. Thomas then wedged out of the rough, leaving himself 117 yards to the green for his third shot. Then he stuck a magnificent wedge to less then two feet past the hole. List easily two-putted for a birdie four. Thomas made his short putt for the same number. Now, it was game on for sudden death playoff.
They returned to the 18th tee again for the extra hole. This time it was just the reverse for these two players on this hole. Thomas drove in the fairway and hit is second shot onto the green for an eagle putt. List drove in the right rough, wedged out, and put his third shot 18-feet from the hole. List missed his birdie putt and Thomas two-putted for a birdie four and the win.
Thomas is off to another stellar season. He has two wins and seven top 26th finishes in eleven starts of the season. It is amazing how far he hits the ball, weighing only 160 pounds. There are so many really good golf swings nowadays on the PGA Tour, and Justin Thomas has one of them. This was my first time to see Luke List play much televised golf. He is also a long hitter. But I think he may have the best swing on the Tour. And he was so calm under pressure in his best chance to win on the PGA Tour.
Luke List was born in Seattle, Washington, where I was born and raised. He attended Vanderbilt University and got on the regular PGA Tour in 2010. He has bounced back and forth from there to the Nationwide Tour and Web.com Tour. I think we're going to hear and see more from Luke List because he also is a good putter.
You can't be very good at pro golf unless you can putt. It's almost half the game. That's why the great ball-striker of all time, Ben Hogan, wanted golf changed so that all shots off the green counted one stroke each, as always, but all shots on the green would count only half a stroke. Lots of his friends told him, "Ben, it ain't never going happen."
Tiger Woods finished a respectable 12th place, with even par 280, in his comeback effort. He said he was encouraged. He hit the ball well and had no physical pain. Tiger has now undergone four surgical operations on his left knee and four on his lower back. It is really difficult to come back from something like that and attain anywhere near the level of play you used to achieve. Best wishes to Tiger. He is still trying to win four major championships in order to tie Jack Nicklaus' eighteen major wins, which is the record in pro golf.
The PGA National Champion Course was designed by Jack Nicklaus many years ago. Jack appeared on TV today as a part-time commentator alongside sports Jim Nance and major Tour winner Nick Faldo. Yesterday, Barbara Nicklaus took a seat in that tower, talking about the Nicklaus charity from this tournament. Barbara is a class act along with Jack.
I always liked playing PGA Tour tournaments on this PGA National Champion Course. During the last years of my career on the Senior/Champions Tour, we played the Senior PGA Championship here at PGA National. That was a major championship for us on that Tour.
The 15th, 16th, and 17th holes at PGA National are called "the Bear Trap." This name refers to Jack Nicklaus, whose nickname was "the Golden Bear." These are tough holes, with water alongside all three greens. Yet the 15th and 17th are only 8 iron to 5 iron shots in length. But the wind usually blows in Florida, and that makes for tough shots.
Actually (I've blogged this before), the last round I played on this golf course was the last round in the Senior PGA Championship (I forget the year) on the Senior/Champions Tour. I was paired with Jack Nicklaus and Tom Watson. I beat them both by one and two shots, something I didn't do much in my career.