I sometimes watch "The David Rubenstein Show: Peer to Peer Conversations" on Bloomsberg television. I like to watch it. The show is about Rubenstein interviewing the most influential people in business, especially those who become philanthropists.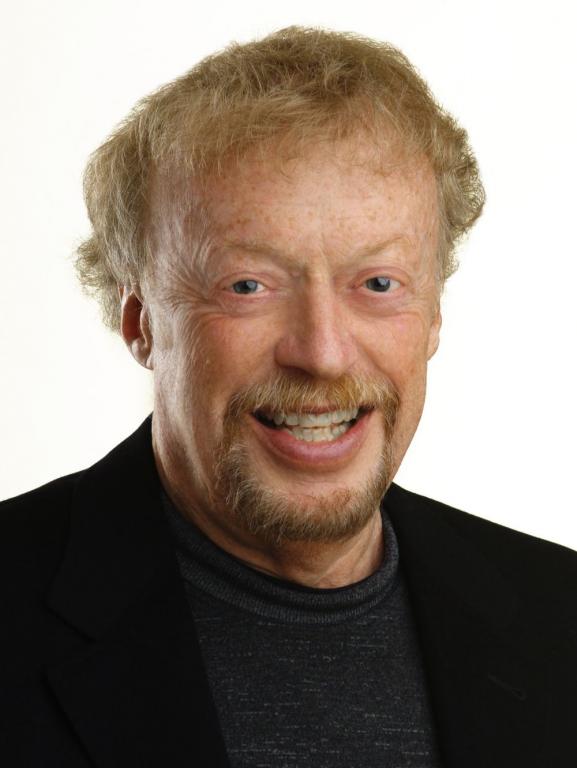 Today, Rubenstein interviewed Phil Knight, co-founder of Nike, Inc. He certainly fits the program's parameters as a successful businessman and philanthropist. Hats off to Phil Knight. Nike is the wildly successful athletic shoe company headquartered in Beaverton, Oregon, near Portland. Phil Knight was talking about the most famous athletes with whom Nike had sponsor contracts. Their three main athletes they signed in chronological order were, first, tennis star John McEnroe, second, Michael Jordan, the NBA's greatest player of all time, and third, PGA Tour player Tiger Woods, who is arguably the second greatest pro golfer of all time.
Rubenstein asked Knight about McEnroe's reputation for having such a ferocious temper on the court. As if in defense of McEnroe, Knight replied by saying Arnold Palmer had a bad temper, too. I strongly object to that. I think Phil Knight obviously was speaking more from hearsay; but I am not.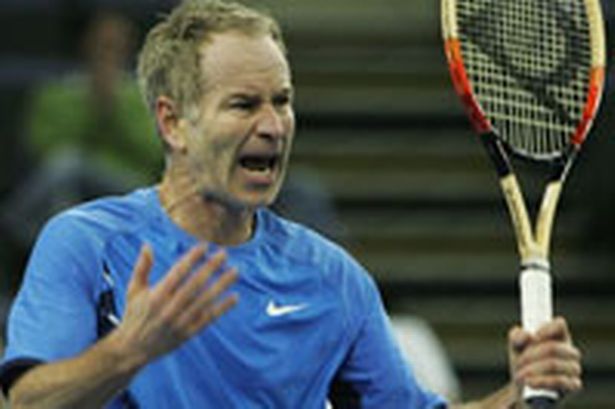 I played golf with Arnold Palmer many times in PGA Tour tournaments during the time period of my competing full-time on that tour for eighteen years. I have no idea how many times we were paired together. Arnold did indeed sometimes display a bad temper very early in his pro golf career. But he soon restrained himself so that I would say Arnold Palmer did not have an explosive temper throughout almost his entire pro golf career. Thus, it is ludicrous to compare Arnold Palmer's temper on the golf course in competition with that of John McEnroe's temper on the tennis court in competition. There is no comparison.
The advantage I have over Phil Knight about making this judgment is twofold: (1) I played many times with Arnold and (2) the difference between the two games of tennis and golf. In PGA Tour golf tournaments, there are 156 players (Th and Fri, 70+ on Sat and Sun) competing on a huge layout of 100-150 acres of ground, whereas in tennis there are only two players competing against each other in a single match on a small court. Thus, TV viewers could watch all of John McEnroe's shenanigans on the tennis court because it is easy to televise a tennis match; but TV viewers cannot see one particular player in a golf competition due to the nature of golf. All TV viewers get is occasional views of pro golfers whereas the entire tennis match is easily televised.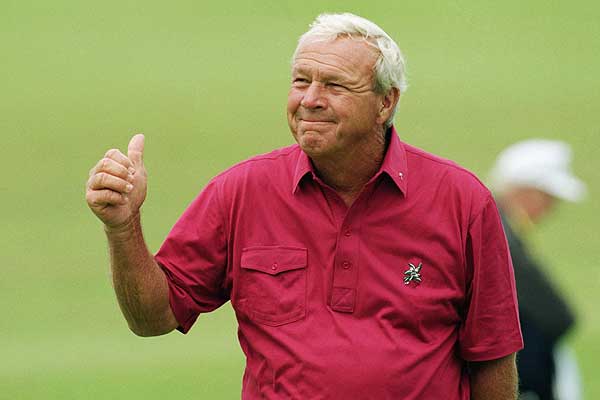 The first time I saw Arnold Palmer play golf was in a PGA Tour tournament in British Columbia in 1957 or 1958. I was about 16 years old at the time. Arnie was strong, in great shape, swung the club very hard, and hit the ball quite far. I was so impressed. But something that surprised me was that he teed the ball low when hitting his driver off the tee. Sometimes he brushed the turf with his driver after making contact. He also played the ball abnormally back in his stance. So, he often hit his drives on the downswing, causing the ball to upshoot due to excessive backswing. In those days, Arnold's drives would take off very low and then climb into the air.
That actually results in a loss of distance partly due to little roll. And that type of shot causes mayhem in the wind. Arnold later said that his pro golf career improved dramatically when he soon changed that feature of his game. That is, he teed the ball higher with his driver, played the ball more even with his left foot at address, and therefore made contact with the ball somewhat on the upswing. Arnold was always known for hitting low drives. But now they were dead-straight bullets rather than airplanes.
When I later played with Arnold Palmer on the PGA Tour, he was the straightest driver of the golf ball on the PGA Tour who could still hit the ball fairly long distances. Doug Sanders was the only other player who could drive as straight as Arnold Palmer could. But I could outdrive Doug; I couldn't outdrive Arnold.
The second time I saw Arnold Palmer play golf on the PGA Tour was in 1959 in the San Antonio tournament. I saw Arnie miss a short putt. In a rage of anger, he buried his putter deep into the green. The club was stuck in the green standing straight up. I don't know what PGA Tour rules were about that type behavior then. But by the time I got on the Tour, in 1964, that would have been "conduct unbecoming a PGA Tour player" that could have incurred a monetary penalty and perhaps more. That is the only time I've ever seen Arnold Palmer throw a club and/or bury a club in the ground.
As for golf etiquette, it's much worse for a golfer to bury his putter in the green in anger than it is to angrily bury an iron club in the fairway. I think the only other time I ever saw a player in a PGA Tour tournament angrily bury his putter in a green was when I was playing with the legendary angry man Craig Stadler, nicknamed The Walrus. It was at the PGA Tour tournament in Binghamton, New York, in about 1980-82. The funny thing about that was that Craig buried his putter in the green because he missed a putt that was some thirty-feet long! Not only that, he shot 65 that day!
No, I would say that Arnold Palmer was a great example of getting control of his anger on the golf course very early in his career. Thus, throughout almost all of his pro golfer career in PGA Tour tournaments, Arnold Palmer was not an angry man. He may have been steaming on the inside, like just about all the rest of us, but on the outside he was very photographic. If not, he might have almost had the reputation John McEnroe had. But come to think of it, I don't think anybody could have ever rivaled John McEnroe when it came to displaying temper in the game. How many tennis rackets did he break?