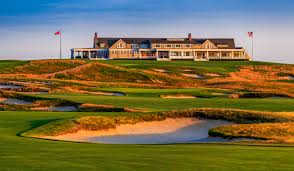 Yesterday, Dustin Johnson ran away from the field by shooting a four-under par 66 at TPC Southwind in Memphis, Tennessee, to win the FedEx St. Jude Classic by six strokes. It was his 2nd win this year and his 18th career win on the PGA Tour. It thrust him back into the #1 slot in World Rankings, pushing aside Justin Thomas to 2nd place.
This is U.S. Open week. Johnson won this tournament in 2016, so he is primed to do it again on a tough golf course. That would be Shinnecock Hills Golf Club on Long Island in New York. It will play host to the best U.S. golf tournament for the fifth time in its history. And a long history it is.
Shinnecock Hills is the oldest formally organized golf club in the U.S., having been birthed in 1891. (It also has the oldest golf clubhouse in the U.S.) The next year, in 1892, Shinnecock Hills hosted the U.S. Open.
In 2004, Phil Mickelson had one of his six 2nd place finishes in the U.S. Open here at Shinnecock Hills. He three-putted the 71st hole from five feet to lose by two strokes. Mickelson is like Sam Snead when it comes to the U.S. Open. They had several 2nd places finishes in this tournament without ever winning it. But Mickelson shot 65 yesterday to finish the St. Jude Classic. So, maybe he is ready to get revenge on Shinnecock Hills this week.
Then there is 14-time major tournament winner Tiger Woods. He will be playing as well. His game and swing are getting better every day as he recovers from four back surgeries in recent years.
Shinnecock Hills golf course has undergone some notable changes. Par is now 70, thus reduced one stroke. Yet the course has been lengthened 450 yards to a total of 7,445 yards. That will favor Dustin Johnson's length off the tee, but also the athletic and long-ball hitter Brooks Koepka, the defending champion.
When they first built Shinnecock Hills Golf Club, it was only a twelve hole golf course. But that was not unusual in those days. Actually, St. Andrews Golf Club in St. Andrews, England, the birthplace of golf, had twenty-two holes for a long time. But that is rather confusing. It was really eleven holes played forward and backwards. That is, eleven holes went straight out, and then golfer turned around and played the same fairways and greens back to their place of origin. Thus, each green had two holes with a pin in each. Two of those eleven holes were eliminated, and that made nine holes played forward and backwards to give a total of eighteen holes.
Even today, St. Andrews–which sometimes hosts The Open (British Open), which along with the U.S. Open to make up two of the four majors in golf–has only eleven greens with two holes and pins on seven greens to make up its total of eighteen holes.