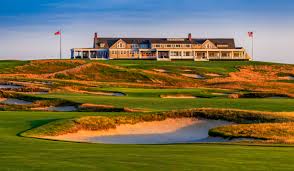 Dustin Johnson lost his four-stroke lead today in the U.S. Open, shooting a seven-over par 77 to finish in a four-way tie for first place with a 213 stroke total. He is tied with defending champion Brooks Koepka, who shot 72, and both Tony Finau and Daniel Berger who shot a course-blistering 66. Finau and Berger took advantage of benign conditions of less wind and smoother greens by playing about four hours earlier than the leaders did. That's the unfairness of golf, that all players cannot play the exact same conditions every day.
Johnson stumbled on the greens with a bewailing total of 38 putts. If he would have just putted normal, he'd still have at least a four-shot lead or more. It can be argued that he didn't really putt poorly, but that it was largely due to unfairness of the course setup. But then, everybody plays the same pin positions. Well, sort of.
U.S.G.A. officials admitted after today's play that perhaps three pin placements on the back nine were too severe. Balls were rolling off greens and down slopes, which made the pros look bad. Officials said it happened mostly because the wind kicked up more in the afternoon than they had expected, and that dried the greens out too much. I already posted hours ago about what Phil Mickelson did about it in frustration. I'll have more to say about that in my next post.
I'm very familiar with THAT–greens drying out too much in the U.S. Open. The year I was leading the U.S. Open well into the last round, in 1972, I three putted two holes in succession for bogies at Pebble Beach Golf Links: from 20 feet on the little par-three 7th hole and from only six feet on the treacherous 8th hole across the chasm full of the Pacific Ocean. I ended the round with a 79 to finish in 6th place. But that included a disastrous snowman (8) on the par-five 14th hole with an 80-yard wedge to the green for my third shot. After the tournament, winner Jack Nicklaus said at the presentation that the wind had dried the greens out so badly that the grass on them was "dead."
So, tomorrow's last round at a famous golf course, Shinnecock Hills G.C., with most of the leaders being the leading players on the PGA Tour, should make for lots of excitement in the best tournament in the U.S. in the greatest game on grass.