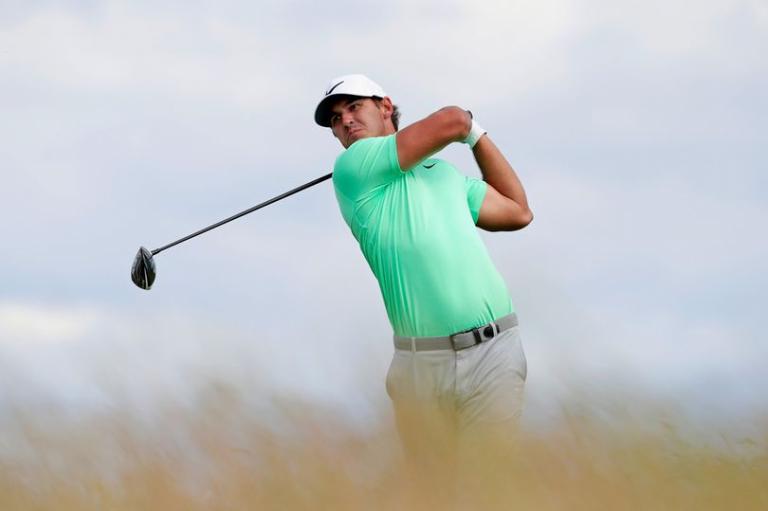 Brooks Koepka won his second successive U.S. Open title today. He bogeyed the last hole to shoot 68 and still win by one stroke over Tommy Fleetwood. He was an early finisher in the clubhouse with a U.S. Open record-tying 63 today for a four-round total of 282, two over par. In the modern era, Koepka's successive U.S. Open titles tied Curtis Strange (1988-1989 and Ben Hogan (1950-1951). Long-haired Fleetwood missed setting a new record with a 62 by missing a ten-foot birdie putt on his last hole that would have tied him with Koepka.
Koepka started the day in a four-way tie for 1st place at three over par for the previous three rounds. He was playing in the next to last twosome with his workout mate Dustin Johnson, who had led by four strokes after two rounds. Johnson won this tournament two years ago, and, of course, Koepka was defending champion. Koepka got to two under par today, thus one over par for the tournament. He maintained that position or even par for the tournament much of the back nine, thus leading the tournament.
Like yesterday, #1 player in the world Dustin Johnson couldn't buy a putt. For the two days he had six three-putt greens. He must have used up all of his good putting during his first two rounds.
Current Masters champ Patrick Reed got a hot start toward getting a second leg of the coveted and illusive Grand Slam (winning four majors in the same year, which has never been done). He birdied the first three holes and was five under par after seven holes on today's round. But he faltered on the back nine.
The determining factor in Koepka's win today was that during the treacherous 11th through 14th holes, three times he got the ball up-and-down (two strokes) from difficult spots near the greens by making sizable one-putts. Still, a TV commentator said Brooks Koepka's tournament stats this week showed he was first in driving distance and accuracy plus he was second in greens-in-regulation. The cream has been coming to the top in the U.S. Open.
My long-shot pick was friendly, tall, and skinny Tony Finau, who has won only one tournament on the PGA Tour. In his stance, he stands so close to the ball that the only time you stand closer than that is in dancing. After shooting a 66 yesterday to tie for the lead, he had five birdies today but double bogeyed the last hole. That hurt his paycheck big time.
The low finishers were as follows: Koepka +1, Fleetwood +2, Johnson +3, Reed +4, and Finau +5.
Yesterday, I blogged about Phil Mickelson's Meltdown on the 13th green yesterday. He putted his ball and then ran over and hit the ball while it was running off the green. That is a two stroke penalty for hitting a moving ball. But there was a question about whether or not he should have been disqualified. He obviously did it because he was frustrated with U.S.G.A. officials regarding some of the pin placements. After much criticism about this course setup from some players, at the end of the day the officials admitted that they had made a "mulligan," meaning they should have done better, yet that is not really the right meaning of that word.
It was an exciting tournament. Brooks Koepka is becoming a superstar golfer. In both of his U.S. Open wins, he played some magnificent golf down the stretch, meaning the back nine on Sunday. Keopka plays golf like he's got no nerves whatsoever, like a robot. Yet he's having fun doing it. "Pretty amazing stuff" as Johnny Miller would say.