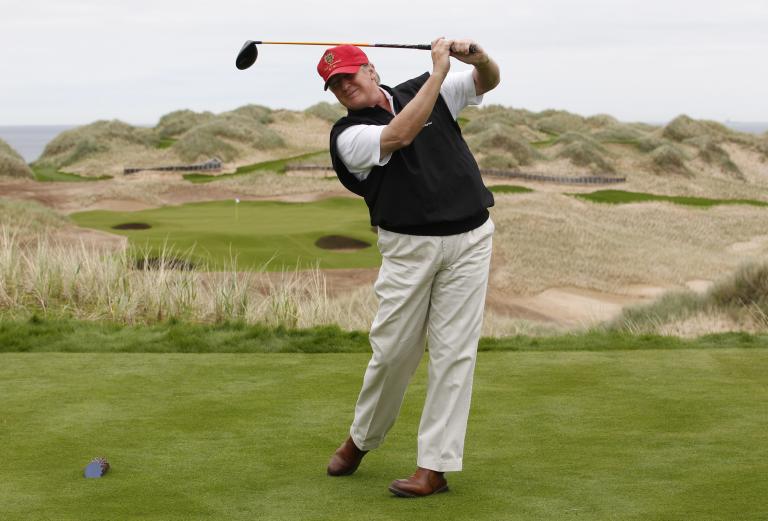 Apparently, when no one's lookin'.
Suzann Pettersen, a fifteen-time winner on the LPGA Tour, says of Trump at golf, "he cheats like hell." She knows. She has played a lot of golf with Donald Trump. Pettersen adds, "I'm pretty sure he pays his caddie well, since no matter how far into the woods he hits the ball, it's in the middle of the fairway when we get there." She says he used to claim to have a 3 handicap, which averages a 75 score for 18 holes, but he really averages about 80 or more.
Boxing champion Oscar de La Hoya says Trump cheats at golf. Trump has a reputation for using a golf cart, driving it on the greens at his own courses, playing through groups ahead without asking, and thus playing golf very fast. La Hoya says he played one round of golf with Donald Trump. Here's what he says about the first tee:
"First ball, [Trump] hits off to the water, gets another ball from his pocket. Hits it off to the left, out of bounds," De La Hoya said.
Trump said, "Oh, I got another one, just warming up," De La Hoya recounted.
"Another one to the water. Then the fourth ball he hits – I know it went to the bushes. But Donald, what he does, he tees off first so he can take off right away. I pipe mine down the middle. So we go off to our ball, and who do we see? Donald Trump, right in the middle of the fairway," De La Hoya said.
He quoted Trump saying, "By the way, I found my first ball, it's right here."
De La Hoya said. "I'm not [voting] for someone who cheats in golf."