Dr. S. Lewis Johnson Writes the Foreword in my First Book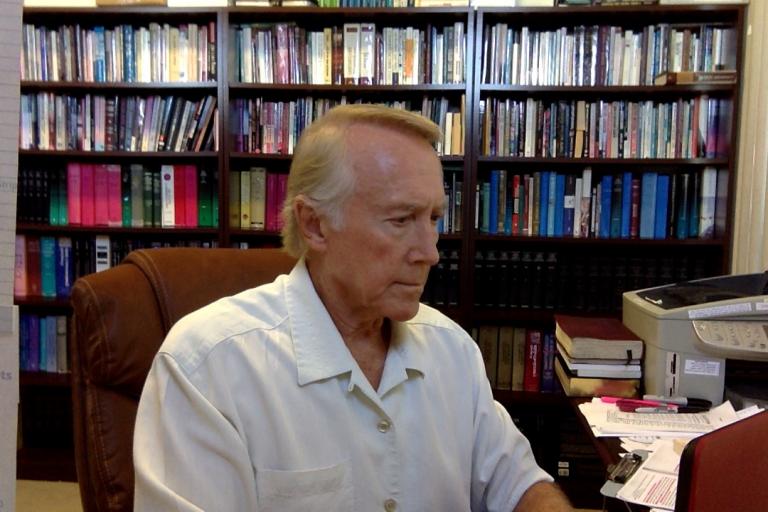 The situation was quite the opposite with my dear friend Professor S. Lewis Johnson. But I did not talk to him about whether or not Jesus is God until I had studied it a few more years and then I felt prepared somewhat to discuss it with him.
I met Dr. S. Lewis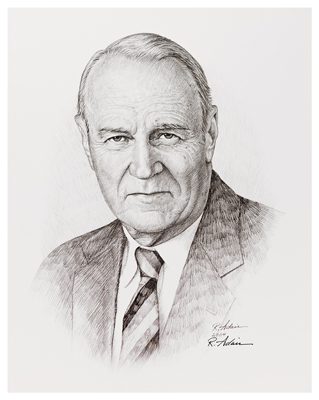 Johnson in 1969 when I attended Believers' Chapel while playing in the PGA Tour's Dallas Open. He was then 53 years old, thus 25 years older than me. He was a fairly handsome man who stood erect at just over six feet tall. At about 180-190 pounds, he was in reasonably good shape. He had a rather deep voice with a distinctly southern accent. Lewis Johnson was a gentleman if ever there was one. And he was an avid golfer with a good golf swing. I felt privileged that Dr. S. Lewis Johnson eventually became my dear friend. (This photo of him was taken from the website sljinstitute.net.)
S. Lewis Johnson died in 2008 at age 88. The eulogy read at his funeral by Fred G. Zaspel includes the following paragraphs:
"Dr. Johnson was born in Birmingham, AL, and grew up in Charleston, SC. He was always quick to assure everyone that his smooth, dignified, and pleasant southern accent was actually 'English in its pure form.' He graduated from the College of Charleston with a B.A. degree in 1937 and was converted [to Christ] through the teaching of Dr. Donald Grey Barnhouse while in the insurance business in Birmingham. He left the insurance business in 1943 to enter Dallas Theological Seminary, from which he received the Th.M (1946) and Th.D (1949) degrees. He completed further graduate work at the University of Edinburgh, Southern Methodist University, and in the University of Basel. Remaining at Dallas Seminary Dr. Johnson was Professor of New Testament from 1950 to 1972 and Professor of Systematic Theology from 1972 to 1977. He later served as Professor of Biblical and Systematic Theology at Trinity Divinity School in Deerfield, IL, and as Visiting Professor of Systematic Theology at Tyndale Theological Seminary, Amsterdam, Netherlands. Dr. Johnson preached and lectured in many places, large and small, taught countless home Bible studies, and was involved in starting several churches. In 1963 he and others planted Believers' Chapel in Dallas, and it is from the Chapel that so many thousands of his tapes have gone to the benefit of countless people.
"He was in many ways a man to emulate. He was a true gentleman. He was always personable and a great delight in conversation. His humor was always good, and his wit was always quick. He was a careful student of the Scriptures with unusually superior abilities as an exegete and theologian. His abilities with the original languages were clearly superior, and when discussion began he would always lead from his Greek and Hebrew text."
The SLJ Institute is dedicated solely to providing teachings of Dr. S. Lewis Johnson by means of its website sljinstitute.net. It now has 1,500 audio sermons delivered by Dr. Johnson between 1960 and 1990 at Believers Chapel Dallas. This website has a quote by John F. MacArthur, one of America's most influential church pastors. He is known mostly for his radio program "Grace to You," 150 authored books, The MacArthur Study Bible, and being president of The Masters University and The Masters Seminary, both in Southern California. MacArthur states, "Through the years I have listened to the preaching of S. Lewis Johnson far more than any other preacher."
Lewis Johnson was Bob Thieme's closest friend in the academy. Johnson sort of took the place of Thieme in my life. I came to regard Lewis as a mentor of mine even though I have never been theologically a Calvinist. Starting in 1970, I listened to hundreds of hours of electronic tapes of Dr. Johnson's Bible teaching delivered at Believers Chapel. It included 120 hours of his systematic theology from a Calvinistic perspective. My views on ecclesiology have been much influenced by listening to Lewis' messages on this subject. Due to his teaching on this, some people have thought he was a Plymouth Brethren, which is untrue. My favorite sermons I have ever heard were a series delivered by S. Lewis Johnson at Believers' Chapel which he entitled, "Leading Figures in the Drama of Golgotha." I still have those tapes.
Two years during the 1970s, I got Lewis to be the sole lecturer at our annual, three-day, Bible conference of the PGA Tour Bible Study. I always thought Lewis was not as known as much as he could have been. Bible scholars and theologians like S. Lewis Johnson gain notoriety by publishing. I once asked him why he had not published much. I was surprised when he said he didn't believe much in it.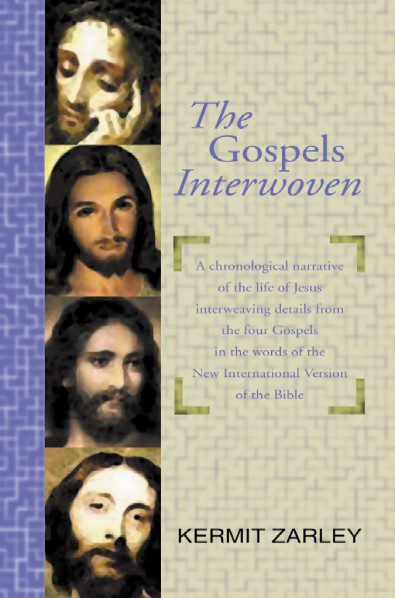 But I did. In about 1983, I mentioned to Lewis my idea about writing a book, which I had never done before. And it wasn't going to be about golf. I was thinking of joining together all four NT gospels as a single-narrative or composite harmony. It is different from the well-known four-column harmony. Hopefully, it would be in a popular version of the Bible and I could get it published. This concept had first been tried by Christian apologist Tatian of Rome in 160 A.D. Titled The Diatessaron, it was quite popular for two centuries. Then a Catholic bishop in Syria strongly opposed it–wrongly alleging that one of Tatian's purposes was to supplant the four gospels–by collecting and burning over 200 copies of The Diatessaron. While that largely led to its demise, translations and adaptations of it survived for many centuries.
Lewis thought it was a good idea, and he encouraged me to proceed. Yet I had very little education in writing. He even helped me by critiquing some of the drafts. Due to something about the first draft, he said, "this reads like you're an amateur playing golf." He got my attention. I learned some stuff from Lewis about writing. When the book was published by Scripture Press, in 1987, Lewis wrote the foreword in it. And both Evangelist Billy Graham and Pastor Dick Halverson, then chaplain to the U.S. Senate, wrote endorsements that went on the back cover. I was elated that these three men of such great stature as Christians were recommending my first book like this.
……………..
To see a list of titles of 130+ posts (2-3 pages) that are about Jesus not being God in the Bible, with a few about God not being a Trinity, at Kermit Zarley Blog click "Chistology" in the header bar. Most are condensations of my book, The Restitution of Jesus Christ. See my website servetustheevangelical.com, which is all about this book, with reviews, etc. Learn about my books and purchase them at kermitzarley.com. My books are: The Gospels Interwoven (1987); Palestine Is Coming: The Revival of Ancient Philistia (1990); The Third Day Bible Code (2006); The Restitution of Jesus Christ (2008); Warrior from Heaven (2009); Solving the Samaritan Riddle: Peter's Kingdom Keys Explain Early Spirit Baptism (2015).