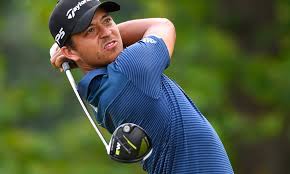 Xander Schauffele Defeated Tony Finau with a birdie four on the first hole of a sudden death playoff to win to win the HSBC Champions at Sheshan Golf Club in Shanghai, China, today. Finau drove into a sand bunker and was forced to lay up on his second shot short of the water fronting the eighteenth green. He then missed his twenty-foot birdie putt while Schauffele easily two-putted for his birdie to get the win. Twenty-nine year old, long-hitting Tony Finau with the short backswing was going for his second win on the regular PGA Tour.
A surprising incident happened on the 72nd hole, which of course, was the eighteenth. Schaufelle had hit his second shot onto the green on the par five hole. Justin Rose, playing with Xander, then hit his second shot onto the green. But his ball hit Xander's ball, causing both balls to roll off the green, down a slope, and into the water. Many non-golfing patrons were exasperated, thinking Xander had just had misfortune. But the Rules of Golf have alway provided in modern times that under such circumstances, Xander was permitted to replace his ball where it was whereas Justin had to "play it as it lies" by incurring a one-stroke penalty for going into the water hazard. Thus, it was Justin who suffered misfortune, by an unlucky break, while Xander did not. That is, Justin's ball surely would have stopped on the green if it had not hit Xander's ball.
Twenty-five year old Xander Schauffele of San Diego is off to a great start in his PGA Tour career. Last year, he won the Greenbriar Classic to propel him toward becoming Rookie of the Year. Then he sealed the deal by winning the coveted Tour Championship by defeating #1 World Player Justin Thomas by one stroke. Plus, Xander finished third in the FedEx Cup for the 2016-2017 season. Today was more of the same winning style.