Writing The Restitution of Jesus Christ and Choosing a Pseudonym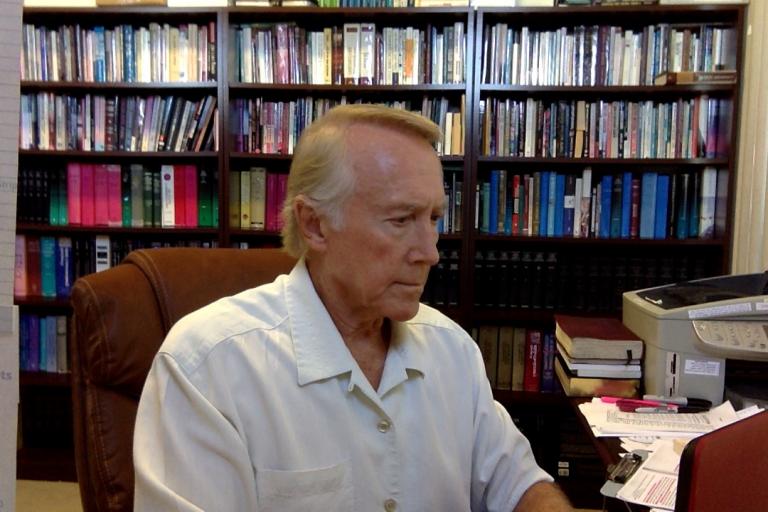 I ended my full time career on the regular PGA Tour at the end of 1982. It was because I no longer was an exempt player. That means you automatically are eligible for all tournaments and thus don't have to qualify on Monday's. (In 1983 they started the All-Exempt Tour, as it is now.) With a family and at age 41, I wasn't going to go to the Tour Qualifying School to try to regain my exempt status. But I wasn't sure about what I was would do for a living. I had narrowed it down to four options: (1) start my own golf club manufacturing company since I had been sort of secretly developing hollowed-out wood and metal club heads for the past thirteen years; (2) accept my friend Karsten Solheim's offer to work with him as his assistant in Research and Development at his PING golf club company in Phoenix, Arizona; (3) become a golf course designer developing my idea about a reversible golf course; (4) or do all of the following: work part time with Jim Hiskey in the new Golf Fellowship ministry he was creating, give instruction clinics and be the keynote banquet speaker at one-day golf outings conducted by para-church organizations such as Young Life, Youth for Christ, Fellowship of Christian Athletes, etc., and study and write theological books about half of my total work time. I was increasingly favoring the first and fourth options.
I think I could have been quite successful if I had chosen the first option. I would have gotten investors. Gary Adams of Chicago had started the golf club manufacturing company TaylorMade. In early 1982, he brought his new, hollow, metal wood driver out on Tour to test it with us pros. I was the third pro to try it, which was at the San Diego Open, and I started playing with it. I had been working on this idea for years before Gary had done so. I then told Gary that he would revolutionize the wood club industry, which became known as "metal woods," and that's what happened. Yet I was still thinking I could become his biggest competitor.
Well, I decided on the fourth option. So, that's what I did from 1983 until 1991. Then I turned fifty years of age and became eligible to compete as an exempt player on the PGA Tour's fledgling Senior Tour (later renamed the Champions Tour). And that's what I did until I retired from competitive pro golf in 2005. But that was not by choice. I was still very much exempt. Orthopedic injuries caused by my profession had gotten the best of me, so I was forced to retire.
When I was having to make my decision in late 1982 about what kind of work I would do, I think one thing tipped the scale and thus caused me to decide on the fourth option. It was this conviction that I had that God was guiding me about researching Jesus' identity. Yet I was only a layman, thus without important tools such as knowing Greek and Hebrew that are so essential to biblical scholars. Yet I felt that I was onto something very important that was largely unknown to almost the entire Christian community. I then thought I might be able to write a book about it. I knew it would be difficult for me, as a layman, to get a theological book published. Yet I had other ideas about writing books on theology. In the 1970s, I had started what I called "a hobby" of trying to write a book on what I was learning about end times biblical prophecy.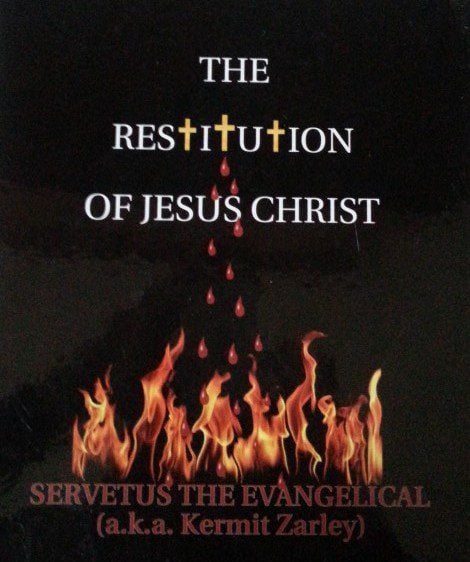 So, for decades I was writing this book on what I was learning about Identity Christology. I eventually titled it The Restitution of Jesus Christ. I chose this title to make it similar to the title of Michael Servetus' last book, The Restitution of Christianity, which soon got him executed.
Two distinguished NT scholars critiqued this manuscript. In about 2002, my close friend Dr. Scot McKnight read an early draft of it. He had said that with this manuscript I was "on the cutting edge of where leading scholarship has been going on this subject," though he was not convinced of it. He advised two things: (1) remove some material that was not really pertinent to my thesis, and (2) don't make the book too lengthy. That was really good advice. I did as he said about the first point. I wanted to follow the second point. But the text ended up being about 500 pages. That is because I included 100 pages of history about the development of Christology throughout church history. I did this because most books on this subject rarely have any such history. As it turned out, many readers have expressed appreciation about this part of the book.
In December, 2007, my friend Dr. Dale Allison read the final draft of this book and provided many suggestions. I incorporated just about all of them in the manuscript. Dale emailed me saying, "As you may have guessed from things of mine you've read, I'm largely sympathetic. The argument against the tradition is convincing. As to what we should replace it with, I'm far from certain, but the God was in Christ proposal is sensible. [That's what I call my viewpoint about Jesus' identity, as in 2 Cor. 5.19.] There is no way to predict the response to a book in advance; but it merits discussion. You've done a lot of work."
Indeed, I estimate that during the 28-year period in which I studied this subject prior to the book's publication, I read about a thousand books on Jesus' identity. [I cite over 400 authors in the book.] And I had to get most of these books through the inter-library loan system, which was a lot more work. Plus, I scoured hundreds of Bible commentaries, mostly in many libraries, reading what they say about the dozens of critical Bible texts that are pertinent to this discussion.
I finally completed this book, The Restitution of Jesus Christ, and self-published it in 2008. Wipf and Stock Publishers would have published it in two volumes or if I would have shortened the manuscript. I refused to do either. So, I published it under the pseudonym I thought of, "Servetus the Evangelical," without divulging my name. Why did I do this? About eight months before its publication, my son Michael suggested I publish it under an anonymous pseudonym. He made this suggestion because, as my regular caddy on the Senior Tour, he was well aware of the rejection I was suffering from some of my Christian brothers for taking this viewpoint even though I didn't say much about it. People usually knew about it by rumor, but didn't ask me about it. Most surprisingly, only months after Michael suggested this, my close friend Professor Scot McKnight advised me likewise without knowing Michael had already suggested it. Prior to Michael doing so, I had never even thought of it. And I had never discussed it with Scot. So, I thought God was speaking to me through both of them.
I started thinking and praying about a pseudonym. For weeks, I had no clue. Then, one night I was walking into a sophisticated restaurant and dance club here in Scottsdale, Arizona, a favorite place of mine. Its name was Barcelona, referring to the city in Spain. It made me think of the brilliant Spaniard Michael Servetus. John Calvin, the preeminent Bible teacher of the early Protestant Reformation, had hailed the Catholic Inquisitors in Geneva to arrest Servetus due to two books he wrote against Trinity teaching. Servetus' respected family was devoutly Catholic.
The imprisoned Servetus underwent three months of almost daily interrogation under Calvin's direction. Then Switzerland, a church-state, tried and condemned Servetus as a blasphemer for publishing against infant baptism and the Trinity doctrine. Servetus was then burnt publicly at the stake. An outcry arose against this in Europe, and it later contributed to the formation of Unitarianism. (I don't call myself a Unitarian because, like Trinitarian and Trinity, it isn't in the Bible. Plus, Unitarians later became Universalists. Instead, I call myself a "One-God Christian.")
I had written in my book about this Michael Servetus tragedy. Many have regarded him as a Christian martyr, but Trinitarians have deemed him a non-Christian heretic. Due to parallels between me and Servetus, I immediately decided with certainty that my pseudonym would be "Servetus the Evangelical." The word "Evangelical" was intended as an assertion that I still regarded myself as an evangelical even though nearly all evangelicals would not. My contention was that evangelicals, like Protestants, have claimed to believe in "sola scriptura" as the arbiter of theological controversy, to which I was appealing, rather than church creeds, as they also did.
Soon after I decided on this pseudonym, I was surprised to learn that Michael Servetus and I were born on the same day of the year—September 29th. And for many centuries before Servetus lived, as well as during his lifetime, the Catholic Church had celebrated Saint Michael's Day on September 29th. It was a commemoration of Michael the archangel who is mentioned in the Bible. Catholics added a fun and tasty tradition to this celebration by eating a cooked goose.
I was startled when I discovered that Michael Servetus was born in 1511. Thus, the 500th anniversary of his birthday was going to be in the year 2011, which also would be my 70th birthday. I then began to wonder if these similarities between me and Servetus was divine providence. Then I published anonymously The Restitution of Jesus Christ on September 29, 2008, under the pseudonym Servetus the Evangelical. I planned to reveal my identity in three years, thus on the 500th anniversary of Servetus' birthday and my 70th birthday. The first print was 200 copies. They sold out in about a year. The second print was 500 copies. I had them made in my Triangle Book invention format. But my patent attorney said it would be costly with the USPTO to continue my anonymity as the author of this book. So, I had to reveal my identity about year earlier than planned, which I did on my website. Within 24 hours after doing so, about 200 websites announced it. That's because I had a marketing strategy in which I had a contest to identify me as the author by giving weekly clues. It worked in generating interest. However, many were deflated when they learned I was not a real scholar as was generally supposed. My ego was bruised when some wise guy declared on the internet, "Oh, he's just some pro golfer who no one has ever heard of."
………………………..
To see a list of titles of 130+ posts (2-3 pages) that are about Jesus not being God in the Bible, with a few about God not being a Trinity, at Kermit Zarley Blog click "Chistology" in the header bar. Most are condensations of my book, The Restitution of Jesus Christ. See my website servetustheevangelical.com, which is all about this book, with reviews, etc. Learn about my books and purchase them at kermitzarley.com. My books are: The Gospels Interwoven (1987); Palestine Is Coming: The Revival of Ancient Philistia (1990); The Third Day Bible Code (2006); The Restitution of Jesus Christ (2008); Warrior from Heaven (2009); Solving the Samaritan Riddle: Peter's Kingdom Keys Explain Early Spirit Baptism (2015).