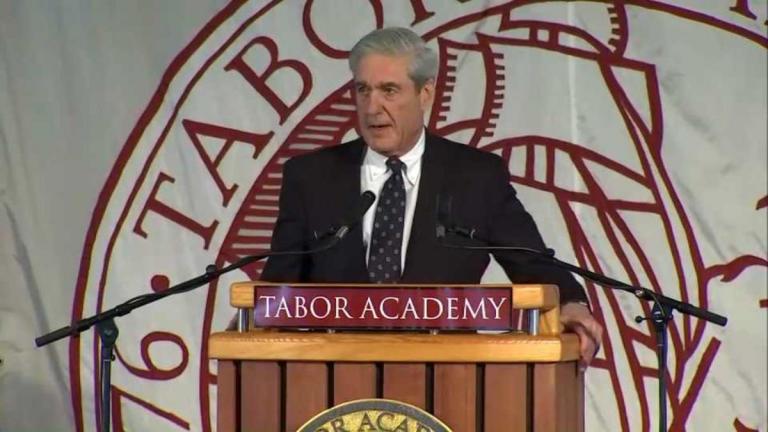 Friday, Special Counsel Robert Mueller delivered to Attorney General William Barr his report of his nearly two-year investigation into possible collusion/conspiracy between President Donald Trump and his associates with Russians meddling in the presidential election in 2016 for the purpose of trying to get Trump elected. All this time, Mueller has kept quiet, doing his job that he was appointed to do by acting Attorney General Rod Rosenstein. And that was even though President Trump constantly accused Mueller's investigation of being "a hoax" and "a witch hunt" and apparently trying to end it, which would seemingly be obstruction of justice.
During all this time, a photo of Mueller that was shown often on television was of him speaking at a graduation ceremony at Tabor Academy in Massachusetts. One of those graduating from the class of 133 was Mueller's granddaughter. This photo of Mueller seems to have been shown so often because it was about the last time he ever did anything in public after he began his new work. In fact, Mueller delivered that public address only days after he was selected as the special counsel for the investigation.
It is interesting to read some of Mueller's remarks in that address. They seem to have been made with his investigation in mind which would last one year and almost ten months. Here is some of what Mueller said, "When given the opportunity to address students, I always mention integrity because it is so essential to who and what you ultimately will become. Whatever we do, we must act with honesty and with integrity, and regardless of your chosen career, you are only as good as your word."
Mueller explained in this address, "You can be smart, aggressive, articulate and indeed persuasive, but if you are not honest, your reputation will suffer, and once lost a good reputation can never, ever be regained. As the saying goes, if you have integrity, nothing else matters, and if you do not have integrity, nothing else matters."
All this time, according to one report I read, Robert Mueller's wife has been attending a women's Bible study with some friends of hers.