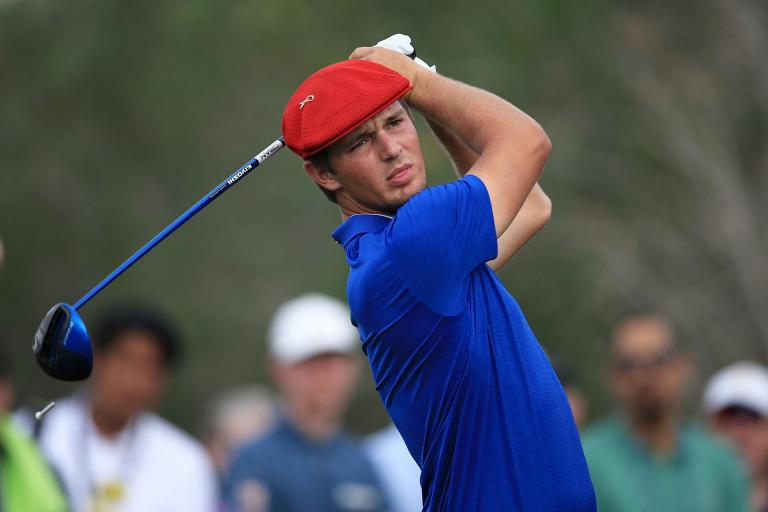 The Masters was off to a great start today for the fans, with so many of the best pros in the world in the hunt. Muscleman Brooks Koepka and unorthdox swinger Bryson de Chambeau each shot six-under par 66 to take the lead. Forty-eight year old crowd favorite, and one of the greatest players of all time, Lefty Phil Mickelson shot 67. Western movie star looking Dustin Johnson is at 68. A huge number are tied at 70, with 14-times major winner Tiger Woods among them though he missed some putts.
A friend just asked me what I thought of Bryson de Chambeau's unorthodox swing style and iron clubs. Here's what I said:
"Interesting guy. I really like some of his thinking. One is that he has such amazing extension at impact with his swing system. Being well braced with your legs and feet with no swaying hips and totally extended arms at impact is the secret to striking the golf ball. The result is a level head and solid hits. That's how those machines hit the ball, such as Titleist's Iron Byron in my day.
"That's what set Ben Hogan and Canada's Moe Norman apart, who had similarities in their swings. They are rightly considered the best ball strikers of all time. I watched both of them hit balls many times and played golf with them. Both teed the ball very far away. Thus, both swung the club flat. Hogan had the flattest swing plane I've ever seen a pro have. It was amazing when you first saw it. Both therefore had their irons set flat. Hogan's were amazingly 4 degrees flat.
"De Chambeau is different in that he does not stand far away from the ball. Rather, he stand close to it. But he stands tall like Hogan did. The main reason for this difference was that Hogan was 5'8″ and Bryson is 6'1". Hogan also had long arms, which also required him standing farther from the ball and swinging flat.
"Then, the big thing about Bryson is that he has the same lie on all his irons and same length of shafts. That forces him to stand tall, but also close to the ball. I think the more erect you can stand at address the better. One reason is it saves the low back, the nemesis in golf. Another is that it enables extension at impact. Also, you don't have a dipsy doodle head. Maintaining a level head on the downswing and through impact is what really set Hogan and Norman apart for making solid hits.
"Bryson has very little wrist cock on his somewhat short backswing. That creates accuracy. Norman swung back short. Hogan couldn't do that with his small stature since he didn't want to sacrifice the distance. Bryson's height helps him there.
"Then, Bryson uses the same mechanics in putting, which is very interesting to me. I appreciate that more because of Steve Jones (U.S. Open winner and strong Christian who lives here), a friend of mine. He did that. About three months ago I asked Steve how and when he decided to putt that way, with arms totally straight and locked, so that it is a complete shoulder move. Steve was known for getting on really hot putting streaks, and I think his style was the reason. He once won the Phoenix Open by almost ten strokes.
"Finally, Bryson has strong belief in his unorthodox style and works as hard as anybody. In some ways, I think he affirms the kind of swing that both Hogan and Norman had."
De Chambeau is an unusual guy. Though he's right-handed, he can write his name left-handed and backward. Bryson is now 5th in World Ranking. Nobody, except maybe Bryson, would have predicted he was going to be this good due to his unorthodox swing and equipment. He plays Cobra clubs and has them made to his specifications.
Golf World interviewed Bryson de Chambeau. Here's some of what he said:
"If I wanted to learn Arabic or Russian, I could. Or tie my shoes in a new way, I could. Why? Dedication. I'm not really smart, but I'm dedicated. I can be good at anything if I love it and dedicate myself. And I love history. I love science. I love music. I love golf. I love learning. I love life. I love trying to be the best at anything and everything."
In high school, he rewrote his physics textbook. DeChambeau borrowed the textbook from the library and wrote down everything from the 180-page book into a three-ring binder. He explains: "My parents could have bought one for me, but they had done so much for me in golf that I didn't want to bother them in asking for a $200 book. … By writing it down myself I was able to understand things on a whole comprehensive level."