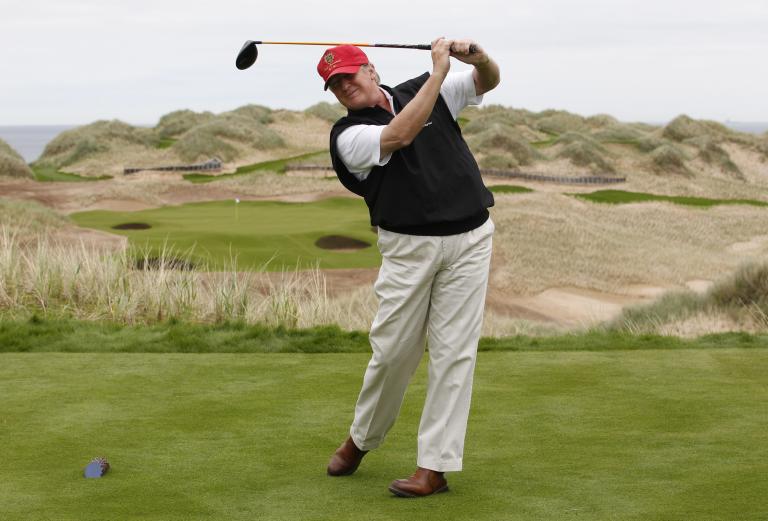 Golf magazine just published a piece about Donald Trump cheating all the time at golf. It is adapted from a new book written by sportswriter Rick Reilly and entitled Commander in Cheat: How Golf Explains Trump. It is published this year by the biggest publisher in the world until recently–Hachette Books.
Rick Reilly says Donald Trump "cheats like a mafia accountant" at the game of golf. Reilly cites a bunch of witnesses who testify to it. Some are credible and famous people. They tell their own stories about playing golf with Donald Trump and seeing him cheat.
I've always believed that whether or not you play the game of golf fair-and-square or cheat at it reveals how you do your income tax returns. No wonder Donald Trump won't make public his tax returns.
I used to have a caddy on both the regular PGA Tour and on the Senior/Champions Tour named "Big Sam." Sam lived in New York City. He caddied a lot at Winged Foot Country Club. Donald Trump has been a member there for many years and played a lot of golf there. Sam caddied for The Donald there many times. Sam told me The Donald always paid well for a round of 18 holes of golf–$200.
I wish Sam was still here so I could ask him more about his caddying for Trump. I don't know if Sam would tell me the truth–whether or not he cheated for The Donald. Sam sure didn't cheat for me. If he ever did that, and I suspected it in the least, I would have done like Donald Trump on The Apprentice and said, "You're fired." And Sam knew that quite well about me. I only had to do that one time in my life. The caddies knew it.
Golfers argue about how cheating at golf should be defined. Some say if you hire your caddy to cheat for you, that isn't you cheating. Some caddies just know that when they caddy for certain people, those people want their caddy to secretly cheat for them without telling them to do it. It's just common knowledge. Then there are those golfers who tell their caddy to cheat for them. Which of these golfers is a cheater? You tell me.
Winged Foot is a famous golf course. It is in Mamaroneck, New York, a suburb of New York City. Major championships have been played there. I played in the 1974 U.S. Open there. Tom Nieporte the head pro there from 1978 to 2006. Now deceased, Tom was a great guy and good player who sometimes played on the PGA Tour. I actually liked to watch Tom Nieporte swing the golf club. His swing was simple, and his footwork was as good as it gets. If Tom was here now, I wonder if he would tell me whether or not Donald Trump plays the game fair-and-square. Tom probably had some stories to tell.
How and why President Trump cheats at golf — even when he's playing against Tiger Woods