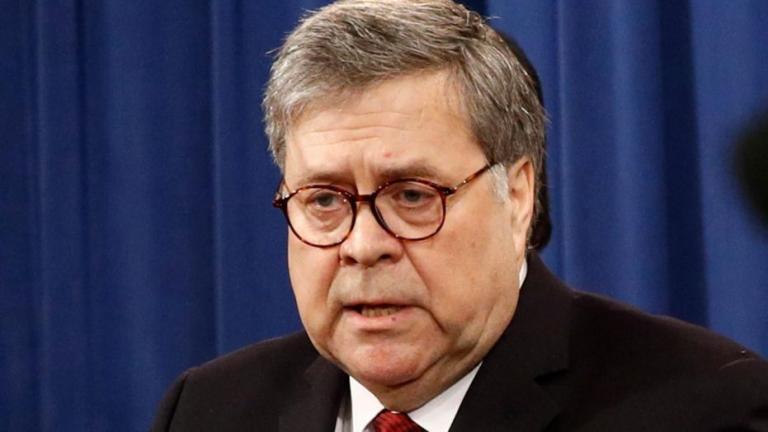 Attorney General William Barr testified today in a public hearing before the Senate Judiciary Committee about the Special Counsel Robert Mueller's report on his Russian probe and possible collusion by the Trump campaign during the 2016 election. This committee is chaired by Senator Lindsey Graham (R-SC),, President Donald Trump's closest friend and supporter in the Senate. Early in Graham's opening remarks he said, "The president never did anything to stop Mueller from doing his job."
I think that is a lie. The most important feature of the Mueller investigation was his repeated request to the president that he be investigated in person by the Mueller team. President Trump refused. He only succumbed to answering written questions submitted by Mueller's team. But the president answered 37 times that he did not recall or remember. Mueller concluded in his report that this process was inadequate.
Although I have not read the Mueller report of 448 pages, people who have read it say that on page one, Mueller explains effectively that his hands were tied in making the customary conclusion of an investigation, which is whether or a crime was committed. The main crime considered in the report is whether or not Donald Trump and/or any of his team committed conspiracy, not collusion, with the Russians and whether or not the president himself obstructed justice regarding Mueller's investigation.
How were written questions to the president inadequate? Mueller has been criticized, including by AG Barr, that he did not come to a conclusion about whether or not the president committed obstruction of justice. But Mueller explains in the report that for him to do so, and make a prosecutorial judgment by proving it "beyond a reasonable doubt," as would be required, he needed to question the president in person in order to determine Trump's motives in certain instances in which he may have obstructed justice. Mueller laid out in the report about a dozen incidences in which Trump may have obstructed justice. In so refusing a personal interview, Trump certainly did hinder Mueller's investigation and thus "stop Mueller from doing his job."
The report says Trump told his White House lawyer Don McGahn to fire special counsel Mueller, and McGahn refused to do so. When this leaked out and was reported by the media, the report says Trump then told McGahn to issue a statement denying that Trump told him to fire Mueller, thus to lie. Again, McGahn refused. Did Trump thereby obstruct justice. The legal definition of obstruction of justice involves not just doing it but attempting to do so. Thus, it is a criminal act to attempt to obstruct justice.
Barr said in his testimony today that Mueller was "unhappy" with Barr's 4-page letter delivered to Congress on March 24, two days after he received the report from Mueller. Barr in this letter summarized the report weeks before he made necessary redactions to the report and then provided it to Congress and the public. Democrats have been calling for the un-redacted version except where absolutely necessary. Mueller made his objections known to Barr in a letter to him three days later, on March 27. In it, he says Barr's letter avoids "context, nature, and substance" of Mueller's report. Mueller obviously meant that this absence in the letter thereby mischaracterized his report.
Barr said today that upon receiving this letter from Mueller, he then phoned Mueller. He questioned Mueller's judgment of writing the letter and said he should have merely phoned Barr and verbally told him of his objections to Barr's letter. That sounds like Trump's objections to notes, that is, any writing that characterizes conversations. But Mueller obviously put his objections in writing for Barr so that there could not later be any dispute about Mueller's objections. This Mueller letter suggests that by then a rift was occurring between these former friends.
Senator Graham also said in closing his introductory remark, that concerning the Mueller investigation and his report of it, "For me, it is over." Then, I think Graham should not have been holding a hearing about this, but recused himself. It reminds me of Barr's 19-page memo he wrote in June last year that seems to have been an ad hoc document appealing to President Trump for the attorney general position. In it, Barr said this concept of a special counsel investigation into Russian meddling and possible Trump conspiracy was flawed and thus unnecessary. Due to this bias against Mueller's work, Congress should never have approved of Barr's nomination by the president or at least should have recused himself from having anything to do with the investigation.
This issue about whether or not Donald Trump committed obstruction of justice regarding special counsel Mueller's investigation is over for Lindsey, but not for me and a whole lot of other Americans. We won't hear the last of this argument until at least we hear from Democrat-controlled committees in the House looking into this and perhaps some of the 14 investigations that Mueller siphoned off to the Justice Department's Southern District of New York and Washington, D.C., Office. This dispute likely will go on until the 2020 election.