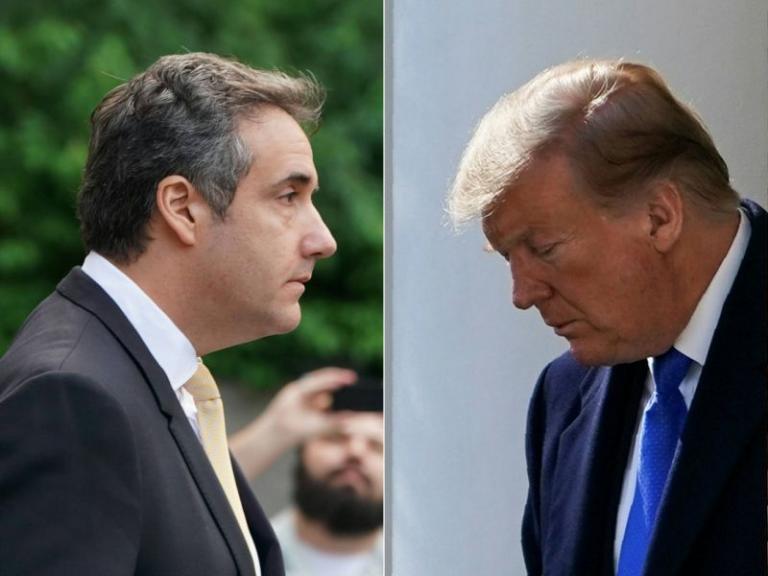 Michael Cohen–Donald Trump's personal "fixer" lawyer for over ten years–was incarcerated today in the Catskill Mountains at the Federal Correctional Institution facility in Ottisville, New York, a short distance from New York City where both he and Donald Trump centered their businesses for decades. Cohen will be imprisoned there for three years for being convicted of crimes of fraud for both himself in his business and for doing what President Trump told him to do.
Concerning the latter, Cohen says Trump told him to make payments to two women who claimed to have had sexual affairs with Trump back in 2006-2007. Cohen made these payments about six weeks before the 2016 presidential election in order to keep these two stories from the public, and it was an infraction against U.S. election campaign laws. So, if these stories are true, and there is physical evidence of Cohen having paid checks to these women, Cohen is going to prison for committing criminal activity at Trump's direction on Trump's behalf in order for Trump to win the election.
Yet Trump has not been so convicted and therefore is not going to prison. The maximum penalty for breaching U.S. campaign election laws is five years in prison. That makes our president above the law. Of course, Trump may later be convicted of one or both of these two crimes of which Cohen was convicted.
Also today, a letter signed by 375 former U.S. federal prosecutors has been published which says that if Donald Trump was not the sitting U.S. president, he clearly would be charged with committing several crimes of obstruction of justice during the 2+ years he has been president. Special counsel Robert Mueller had conducted a nearly two-year investigation into whether or not Trump and his team committed conspiracy with Russian government operatives in order to help Trump win the 2016 presidential election. In Mueller's report–redacted and released only days ago by Attorney General William Barr–he lays out at least ten incidents in which President Trump may have obstructed justice. Mueller does not conclude that the president did so because Mueller explains in his report that the Office of Legal Counsel guidelines include the concept that a sitting president cannot be charged with committing a crime.
This statement by 375 former federal prosecutors includes many who worked in Republican administrations reaching back into the Reagan and even Eisenhower administrations. This statement is very troubling. It alleges that during Donald Trump's tenure as U.S. president, he has committed "acts that satisfy all of the elements for an obstruction charge," which includes "corrupt intent." It says that if he was not the U.S. president, he would be so charged in a court of law. Among these acts the statement charges that President Trump tried to fire special counsel Mueller, falsify evidence, limit the scope of Mueller's investigation, and prevent witnesses from testifying before Mueller's investigators.
The House of Representatives has several Democrat-controlled committees looking into these matters and more concerning the president. They are issuing subpoenas for Barr to turn over the un-redacted Mueller report and for Treasury Secretary Mnuchin to provide the last six years of Donald Trump's federal tax returns. Then there is also about twelve investigations into Trump's activities that Mueller siphoned off to two jurisdictions in the Justice Department: the Southern District of New York and the Washington, DC, office. Trump's possible liability concerning the Cohen hush money payments to the two women is being investigated by SDNY.
It is pretty obvious that President Donald Trump is exercising a plan to delay revelations about his conduct by means of the court system until the 2020 election. If he wins the election, thus gaining a second term as president, many alleged crimes he has committed would no longer be applicable due to statute of limitations running out. But if he loses the election, those laws would still be in force regarding Trump so that he would be subject to prosecution of such crimes as a normal U.S. citizen. If that happens, Donald Trump could wind up in prison years from now after his former fixer, Michael Cohen, had just gotten out of prison.
As Michael Cohen went to prison today, he said there is much more information to be told about Donald Trump breaking the law.