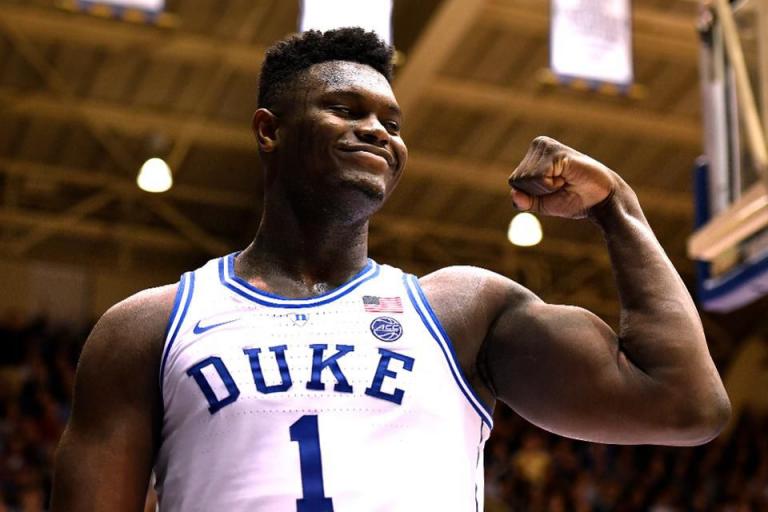 I've been an NBA fan all of the adult life. Zion Williamson, an eighteen year old kid who just finished his first year of college at Duke University, is the #1 latest and greatest teenage basketball player since Lebron James. I say kid, but he's 6'7″ tall, weighs 284 pounds, and he looks like he doesn't have an ounce of fat on him. If Lebron James is a freight train running down the NBA track, Zion Williamson is a rocket blasting off to Mars.
The NBA Lottery was Tuesday night. The three teams that had the best chance to win the #1 pick were the New York Knicks, Cleveland Cavaliers, and Phoenix Suns. Each had a 14% chance to get it. But the New Orleans Pelicans won the #1 pick. So, if Williams chooses to participate in the NBA draft next month, as you would think, New Orleans will surely choose him.
There is a lot of speculative buzz going on about whether or not the wide-smiling, likeable Zion Williamson wants to play for the Pelicans. New Orleans is a bottom market team. Yet New Orleans is truly on a hot streak when it comes to the NBA Lottery. They also won the first pick in 2012.
And that's how this story gets even better. Anthony Davis was that 2012 #1 pick. He is being touted as one of the two best players in the NBA, along with Lebron James. But early this year, disgruntled Anthony Davis asked the Pelicans to trade him since the team hasn't been successful. Lebron James had just gone from the Cleveland Cavaliers to the Los Angeles Lakers. The Lakers supposedly made a huge bid to get Anthony Davis. The Pelicans ownership was miffed about it.
Now, Davis and Williams could be in Pelicans jerseys soon. How great that would be for the Pelicans and their jazzy fans! But is that what both Anthony Davis and Zion Williamson want? As President Trump likes to say, "we shall see."
So, Zion has been in the news lately. Not just here, but in Israel. Mount Zion is the place of the beloved city where the God of Israel placed his name. I wrote a book, Warrior from Heaven. In it I have a poem I wrote entitled Zealous for  Zion. It is written about the time of the end of the age, when Israel will be assaulted by the nations' militaries to annihilate according to the biblical prophets. Here is the poem:
A long time ago, before Israel's woe,
God said he'd live forever at Zion.
But Israel rebelled; God's blessing withheld.
Then nobody cared for Mount Zion.
Two thousand years passed, Jews came home at last,
No longer to weep outside Zion.
Yet Israel does mourn, travails to be born,
As the nations wage war against Zion.
For such a long time, this mountain did pine:
"The Lord has forsaken," cried Zion.
But now her Redeemer has come to esteem her;
His compassion wells up for poor Zion.
So Christ he does roar, comes down to wage war
Against foes on God's hill—blessed Zion.
His fire kindled there; you sinners beware:
God's vengeance begins at Mount Zion.
Behold, a choice stone, a chief cornerstone,
Which God has now laid on Mount Zion.
It crushes the unjust and grinds them to dust,
Now God is most zealous for Zion.
How lovely his feet when the mountains they meet;
Christ brings such good tidings to Zion.
His news is salvation; it comes to this nation.
Jews yell, "Your God reigns blessed Zion."
Cry aloud now and shout; your God do not doubt,
You disheartened citizens of Zion.
Uplifted hearts sing, "Messiah's our King."
The Holy One now reigns on Mount Zion.
The following scripture references are on corresponding lines in the poem.
Mt 11.3; Lk 7.19
Jn 1.29
Mt 3.12 niv; cf. Lk 3.17
Ps 48; 132.13–14; Isa 24.23; Mic 4.7
Lev 26; Deut 28
Isa 10.12; Jer 30.17
cf. Eze 38.8
Ps 137.1
Isa 61.3; 66.6–9
Isa 29.8
Isa 30.19
Isa 49.14; 60.15
Isa 59.20; Rom 11.26
Ps 102.13; Isa 51.3; Zech 1.17
Isa 31.4; 40.9–10; Joel 3.16; Amos 1.2
Dan 11.45
Isa 31.9; 33.14; cf. 66.15–16
Isa 34.8; cf. 61.2–3
Ps 118.22–23; Isa 28.16; Mt 21.42; 1 Pt 2.6–7 | Ps 2.6
Dan 2.35; Isa 29.5; Mt 21.44 par.
cf. Zech 1.14; 8.2–3
Isa 52.7a; Zech 14.4
Isa 52.7b
Ps 14.7; 53.6; Isa 46.13
Isa 24.23; 40.9; 52.7–8