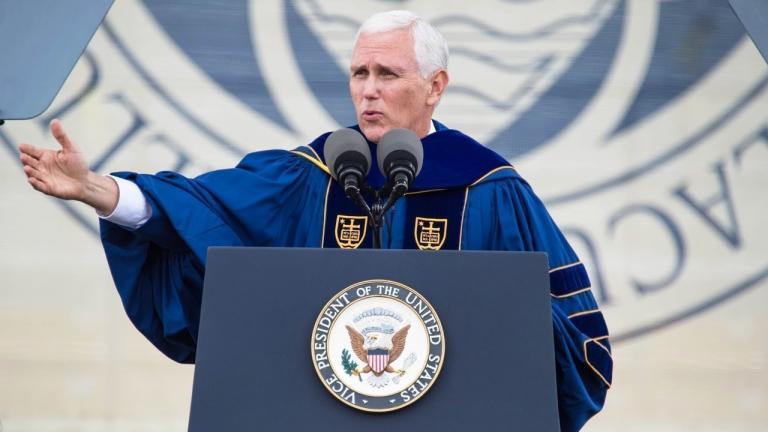 Interdenominational Taylor University of Upland, Indiana, founded in 1846, is one of America's oldest evangelical colleges. In 2017, U.S. News and World Report ranked it #1 among America's Best Colleges in the Midwest Region, thus not only Christian colleges but secular colleges as well. Taylor's student body is about 2,500. I've had friends who have graduated from Taylor University, and they have spoken highly of it.
U.S. Vice President Mike Pence is an evangelical Christian from Indiana. He gave the graduating commencement address at Taylor University on May 18th this year. Many Taylor students had demonstrated against this Pence participation, both before it and during it. Their opposition to Pence got a lot of publicity among evangelical Christians as well as the secular press.
Both students and faculty protested. They got a petition of protest at Change.org before the graduation that was signed by over 10,000 people. It read, "Inviting Vice President Pence to Taylor University and giving him a coveted platform for his political views makes our alumni, faculty, staff and current students complicit in the Trump-Pence Administration's policies, which we believe are not consistent with the Christian ethic of love we hold dear." A counter petition occurred supporting the former Indiana Governor Pence, but it had thousands of fewer signatures. Some students attended the graduation ceremony and then walked out in protest. Others stayed but wore buttons opposing Pence's participation.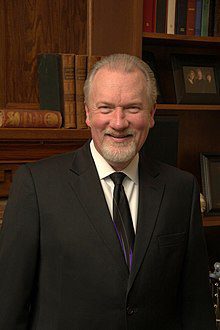 Paul Lowell Haines has been president of Taylor University for only the past three years. As a Taylor graduate, he has been associated with the school in different capacities for the past 44 years. He is the one who chose to invite VP Mike Pence to give this address. Haines obviously made a poor decision in doing so. Taylor University has not been a politically-oriented school. So, I think the Board of Trustees should have foreseen the negative impact that Pence's participation would have caused and called it off. They didn't listen to the students who opposed it until after the fact. It seems to me that was their mistake.
Nevertheless, today, the Board announced on the school's website the resignation of President Haines without giving any explanation. The statement indicated the school had not solicited or encouraged this resignation. Haines soon made a statement of gratitude for serving as school president. Neither did he give any reason for resigning. Perhaps he had just had enough criticism about his decision to invite Pence.
After the presidential election in November, 2016, Pew Research Center claimed that, based on their polling, among all Evangelical Christians who cast a vote for president, 81% of them voted for Donald Trump. That was a real shocker to a lot of people, including this blogger who has claimed to be an Evangelical all of my adulthood. But the longer Trump serves as president, the more Evangelicals are becoming divided about their approval of Donald Trump as the U.S. president. As for Pence, I don't know. Just the fact that he belongs with Trump doesn't look good to me.