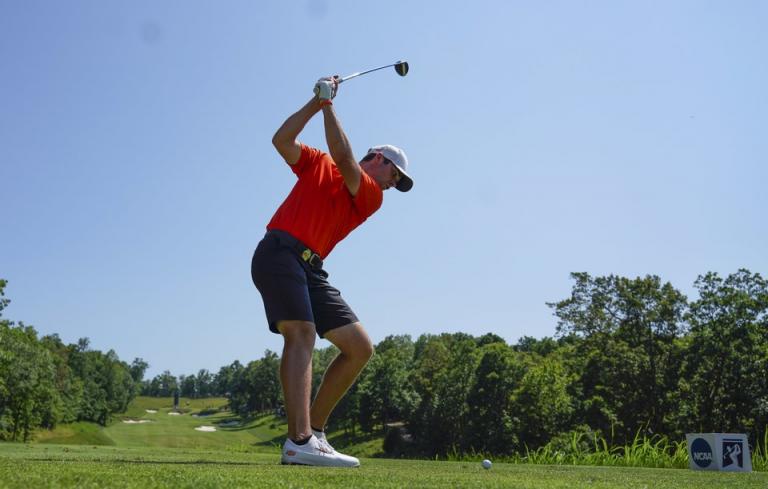 Strange-swinging, long-hitting, twenty-year old Matthew Wolff took the PGA Tour by storm today by winning the 3M Championship by one stroke with a twenty-five foot eagle putt from off the green on the last hole at TPC Twin Cities golf course in Blaine, Minnesota. Wolff, as a member of Oklahoma State University's mens golf team, had just won the individual NCAA championship six weeks earlier and then turned pro.
Wolff and twenty-two year old Collin Morikawa were paired together in the last threesome. Bryson DeChambeau, playing right in front of them, made a six foot eagle putt on the last hole to take a one stroke lead with a five-under par 66 and a 20-under par total of 264 on the par 71 layout.
Wolff then hit his mid-iron second shot on the par-five finishing hole to twenty-five feet or more. It was on the collar of the green and up against a slightly higher cut of the grass. It would be no easy shot. Morikawa then struck his mid-iron to fifteen feet or more just past the cup for his seemingly easier eagle try as well. If both young men two-putt, they would tie DeChambeau to go in the three-way sudden death.
Wolff then hit a bold putt with the pin in the hole. The ball hit the flagstick dead center and disappeared. Wolff now was leading the tournament with a 65 finish for a total of twenty-one under par 263. Morikawa hit a good putt that barely missed left, leaving Wolff with a privilege of hoisting the trophy.
Amazingly, both Wolff and Morikawa, as new professional golfers, had gotten into this tournament on a sponsor's exemption. That and them finishing first and tied for second may be an all-time first on the PGA Tour. This 2018-2019 college golf season, Wolff's sophomore year and Morikawa's senior, Wolff won six college tournaments and was No. 2 in the World Amateur Rankings behind his teammate Viktor Hovland, who finished low amateur in the Masters this year.
I'm tellin' ya, you gotta see Matthew Wolff's unorthodox backswing to believe it! It is comparable to that of Tour player Jim Furyk. Both start their backswings by picking the club head up outside their backswing arc and then starting their downswings by dropping the club head extremely to the inside, resulting in a huge loop. But Wolff even starts the club head by picking it up way outside his backswing plane, so that his loop appears more exaggerated than Furyk's, which nobody would have thought possible until seeing it. I watched Wolff's driver backswing about fifty times on YouTube. I'd like to see it in slow motion. I measured his loop, and I figured it was at least five feet. You can't believe it unless you see it. Miller Barber had the biggest loop like that in my day. But this young wolf make Miller's loop look like no loop at all!
To add to Wolff's swing unorthodoxy, he does some weird dipsy-doodle move with both knees right before he begins his backswing. It appears to be like a forward press to start the swing. Not only that–in this modern era of leaving your left heel (for right-handed golfers) on the ground during your backswing–the young wolf very quickly, when hitting a driver, lifts his left heel way off the ground and sets it back down at the very end of his backswing with such lightning speed that you can hardly see it. All of this looks like some new move on the dance floor. I'm going to have to test that out, not on the golf course, but rockin' to industrial rhythms on the dance floor!