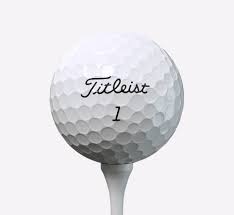 A golf enthusiast commenter on my blog recently brought to my attention that he knew me in my high school days and that I then played a set of fiberglass-shafted irons. I replied that he was correct and they were Golfcraft irons. Another commenter then chimed in, saying "Golfcraft was the origin of Titlest back in the 50s." Well, I knew that was wrong. So, here goes with a little history. Much of it I've just now gleaned from sources on the Internet, some of which I didn't know and I find interesting.
Titleist is the name of the most successful golf ball in modern history. Most of the best players on the PGA Tour play the Titleist V1 ball. And most of those players are under contract with a different company to use their golf clubs. But if they are contracted with a golf equipment company that makes golf balls (there have never been many of them), their contract allows them to play another ball. Why? Titleist is "the #1 ball in golf."
For example, Tiger Woods was under contract much of his career with Nike to play their clubs. Nike, founded by Phil Knight in Oregon, had been a very successful footwear company. Nike had decided to get into the golf business. And they made some good clubs. Now, it's one thing to make golf clubs; it's quite another thing to make golf balls. You can be successful making golf clubs; but forget making golf balls.
Not Nike! They decided to get into the golf ball business, too. Well, after all that investment in golf equipment, Nike recently got out of the golf business. Wow! That was a big loss. I wonder how much their golf ball business had to do with Nike getting completely out of golf. Maybe that's public knowledge that I don't know.
When I started the PGA Tour, I was under contract with Spalding to play their golf equipment. The standard contract said I agreed to play both clubs and balls, since Spalding was indeed one of the major golf ball companies. However, the contract had a clause that said their equipment had to be competitive or else I would not be in default of the contract if I played some other club or ball. Well, that is obviously a matter of personal judgment, at least back in those days when there wasn't much in the way of testing machines to test clubs and balls.
After seven years of playing all Spalding golf clubs and balls, I got skeptical about the Spalding ball. Some of the the other Tour players also under contract with Spalding were playing the Titleist ball. So, the first time I tried the Titleist ball in a tournament, I won. It was the Canadian Open in 1970. The next week, the Titleist representative on Tour, Bob ?, a really nice guy, was only doing his job when he asked me what ball I had played the previous week. I told him "Titleist." That was the end of my contract. Yet Spalding kept those other players on contract just because they didn't admit to playing the Titleist ball. However, as far as I'm concerned, none of us were in breach of contract because the Spalding ball, at least then, was not as good as the Titleist ball.
My now deceased good friend Karsten Solheim was the founder and owner of PING G0lf Club Company under Karsten Manufacturing. He revolutionized the putter and iron making industry in the golf. I have blogged about how I told Karsten when he quit his job at GE, got a bank loan, and went into business, he would "revolutionize the golf club making industry." That he did. But years later, he decided to make a golf ball. Oops! When Karsten did that, I did not tell him he was going to revolutionize that industry. Not only didn't he, he lost a bunch of money on that venture and eventually gave up.
Titleist is owned by Acushnet (now the Acushnet Holding Company). The Acushnet Process Company was founded in 1910 in Acushnet, Massachusetts, now a town of over 10,000 people. They started out supplying rubber to industry, mostly the automobile tire industry, and then started making their own rubber products for market.
Titleist was founded by Phillip E. (Skippy) Young in 1932. He was playing a round of golf one day with his dentist. Skippy missed a short putt, and like many a golfer in the history of the game, he blamed it on his golf equipment. He thought there was something wrong inside his golf ball, thus not the cover of the ball. That was a new one.
Skippy then asked his dentist if he could x-ray his golf ball with which he had missed that short putt. His dentist did so, and the x-ray film showed that there was a rubber core inside the ball and that it was OFF CENTER. Guess what! That will make your golf ball roll or fly OFF LINE! So, Phillip Young proved to be one of the few golfers who has blamed his missed shot on his golf equipment and been right about it.
Young then had many other golf balls x-rayed. He learned that off-center cores in golf balls were common. He made a machine that could wind rubber string around the rubber core of the ball uniformly, resulting in the core being in the exact center of the ball. Skippy named his golf ball Titleist, using the word "title" to indicate his new golf ball was "a winner." Mr. Young formed a company that produced his own golf balls that became known as Titleist. It was revolutionary to the golf ball making industry. It seems that Acushnet Process Company acquired Titleist in 1935. So, a frustrated golfer asked his dentist to x-ray his golf ball, and the result was the greatest golf ball ever! Go figure!
(You can tell if the core of your golf ball is perfectly centered by floating the ball is some liquid, I forget now what liquid, spin the ball, and if it continues to stop spinning by settling into the same position every time, the core is off center.)
Companies get bought and sold. So did Acushnet. American Brands (Fortune Brands) owned Acushnet for a while. And Acushnet acquired FootJoy in 1985. I used to wear FootJoy golf shoes. I don't recall if I had a contract. It would not have involved much money. FootJoy didn't need to. They had the best shoes, at least for a while.
When I was on the regular Tour, one year I went to Bedford, where Acushnet had been relocated, and because one of the first PGA Tour pro golfers to test their new digital-visual equipment hitting golf balls indoors. On a screen it showed a fairway, the ball traveling through air, and provided all kinds of data about the shot. This is when the golf industry was first realizing the importance of such things as ball spin rate, club head speed, etc.
Golfcraft is about a golf clubmaker in Edinburgh, Scotland, named Ted Woolley. He met the famous Scottish pro golfer Tommy Armour. Armour told Ted he should move to the U.S. because of its burgeoning business climate. So, Woolley did just that. He sailed to New York in 1922 to make golf clubs at the Westchester-Biltmore golf course. (I don't know if that was the Westchester Country Club, in Westchester, NY, where I played for many years in the PGA Tour's Westchester Classic.)
Woolley moved to Michigan. In 1928, he moved to San Diego, California, to build a golf course there, which he did. In 1932, Woolley moved to Chicago for an opportunity to return to his former trade of making golf clubs. It was for the J. A. Dubow Company that made baseball equipment.
In 1945, Woolley formed his own golf club making company and named it Golfcraft. He moved his Golfcraft Corporation to Escondido, near San Diego, in 1952. In 1954, Golfcraft made the first fiberglass-shafted golf clubs. I think those Golfcraft irons, with gray-colored fiberglass shafts, that I played in the late 1950s were a 1956 model. An article in the 1966 Wall Street Journal said Golfcraft was "the largest golf club manufacturing company in the world."
In 1966, Ted Woolley sold his Golfcraft Corporation to the Acushnet Company.