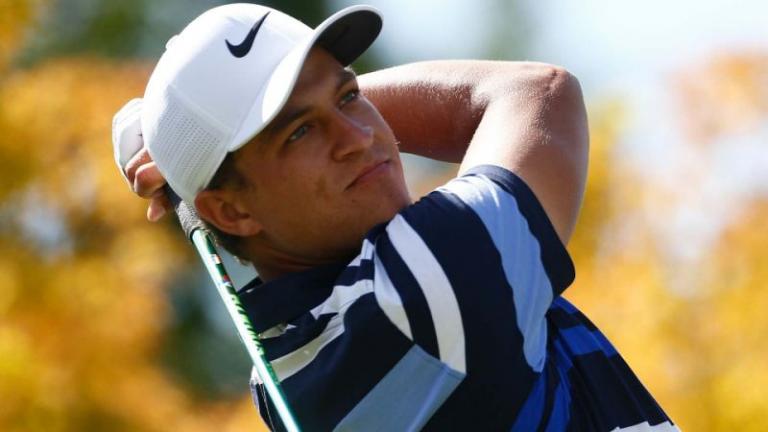 Cameron Champ shot a five-under par 67 today to take a three-stroke lead into the final round tomorrow in the Safeway Open at my old stomping grounds–Silverado Resort and Spa in the rolling hills and luscious wine country of Napa, California. This is where I won my first tournament on the PGA Tour, in 1968. And then I duplicated that achievement at Silverado many years later, in 1994, on the Senior Tour.
This early tournament of the new PGA Tour season is filled with a lot of rather unknowns snipping at Champ's heels. The only superstar within in reasonable striking distance in Justin Thomas, at four back.
Champ is a Texas Aggie, but I won't hold that against him. (I am a graduate of the University of Houston, in Houston, Texas, and lived in metro-Houston for nearly forty years. Students from Texas A&M University are the premier butt of jokes in Texas.)
Champ is in his second year on the PGA Tour. He won his first and only PGA Tour tournament last year at Sanderson Farms.
Unorthodox Bryson De Chambeau started today with a two-stroke lead but stumbled to a 76 to fall well back in the pack.  Cerebral Bryson says he needs to change some shafts in his clubs. Touring pros are always tinkering with their equipment. Golfing amateurs and pros are all alike–they're always searching for that elusive silver wand with they can ascend to the stratosphere of success.
Champ has a rather ugly transition from backswing to downswing. But he seems to be getting the job done with it. No bogies today. And he almost drove the short par four 17th hole, yet he walked away without capturing a birdie.
The weather is as lovely as can be in Napa Valley this time of year. I wish I was there. Oh, for the good ole days. That's what my heart surmises. But wise King Solomon relates otherwise, saying, "Do not say, 'Why were the old days better than these?'" (Ecclesiastes 7.10 NIV). And he says, "The more words, the more vanity" (6.11). So, I quit.