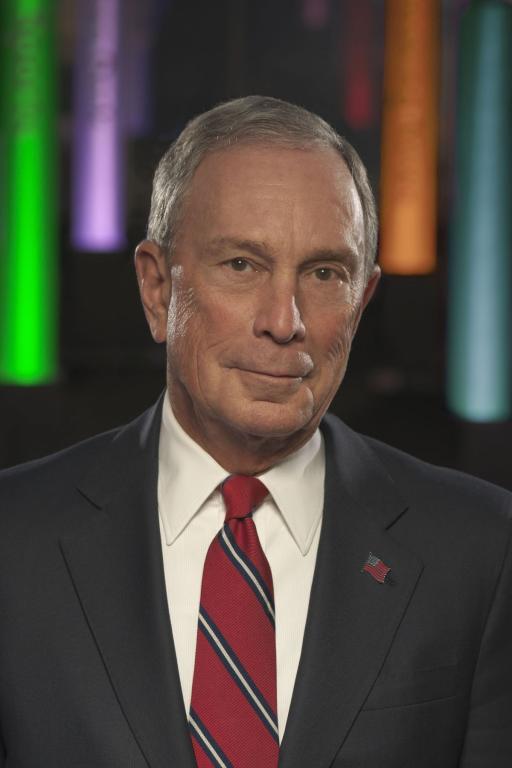 In the last presidential election, I wanted Michael Bloomberg to enter the race. However, I even more wanted Colin Powell to do so because I would have voted for him. Michael Bloomberg was the mayor of New York City for three terms, thus for twelve years. He generally is credited with having improved the City and thereby attained a positive legacy as mayor. I believe he is a level-headed guy. He also is passionate about increased gun control and reducing global warming, which I am too.
However, Bloomberg did one thing as mayor for which he was highly criticized. He advocated a "stop and frisk" policy for his Police Department that was judged racist.
Bloomberg is toying with running for the presidency for the 2020 election. He has done this multiple times on other occasions and never decided to do it. But I think this time is different. The Democratic Party is kind of in disarray. It has many candidates who are campaigning. Some of the leaders of this race advocate a radical socialism that will not fly. It was thought that former Vice President Joe Biden, who entered the race later than most and is a centrist, will get the nod this coming summer as the Democratic nominee. But now, it looks like it is an open race because Biden has lost his lead in the polls.
The problem is that despite this ongoing impeachment investigation of President Trump in the House, as long as the Senate does not remove him from office he could still get reelected. Even though there is so much against Trump right now, I'm doubtful that Biden or any present Democratic candidate can beat Trump come next November 3, the day of the election. A lot of people are thinking this way, apparently including Michael Bloomberg.
Michael Bloomberg, who like Donald Trump is a wealthy businessman from New York City, has quite a business success story mostly with his media company. In fact, there is talk that Bloomberg could try to buy Fox News. It has been Trump's propaganda machine until of late. Forbes magazine says Bloomberg's net worth–which he doesn't brag about like Trump does of his own–is about $50 billion. Even though Bloomberg has not decided to run for the presidency yet, last week he announced he is contributing $100 million for political ads for the Democratic Party and its nominee in this presidential race. He has financial resources to impact this election that absolutely dwarf those of Donald Trump. Experts claim Trump lies much about his net worth, that it is only about a billion whereas he has claimed it is upwards of 10 billion.
Bloomberg knows that if he enters the race, his albatross will be his "stop and frisk" policy as mayor. So, yesterday, Michael Bloomberg, who is Jewish, spoke at a predominantly African-American mega church in Brooklyn that is named the Christian Cultural Center. He said of his stop and frisk policy that it "led to far too many innocent people" being stopped. The ACLU claims 90% of police traffic stops of men of color during Bloomberg's tenure were innocent people. Bloomberg added, "Over time I've come to understand something that I've long struggled to admit to myself. I got something important wrong. I got something important really wrong. I want you to know that I was wrong and I'm sorry."
Michael Bloomberg continued, "I didn't understand back then the full impact that [police] stops were having on the Black and Latino community. I was totally focused on saving lives. But, as we know, good intentions aren't good enough." Yet he added in defense, "the result over the years was the murder rate in New York City went from 650 a year to 300 a year when I left."
I'd say that is not only a penitent, public confession but a sincere and honorable one. Has Donald Trump ever done anything like that? Not only hasn't he, he doesn't believe in public apologies! However, I'll give Trump so many years after his governing, like Bloomberg, to see if he does anything like this. In the meantime, Trump says he hopes Bloomberg, who is short in stature, does run for the presidency. Childish Trump then disparaged Bloomberg again by calling him "Little Michael."
After Bloomberg made this public confession of remorse, some immediately criticized it. For example, Patrick J. Lynch, president of the Police Benevolent Association of New York City, said right after Bloomberg's delivery, "Mayor Bloomberg could have saved himself this apology if he had just listened to the police officers on the street. . . . His administration's misguided policy inspired an anti-police movement that has made cops the target of hatred and violence. . . . The apology is too little, too late."
How is it too little? I don't think so. As for it being too late, "better late than never." Bloomberg concluded his remarks by saying he wanted to continue working for reducing gun violence "and creating a more equal and just society for everyone."
I think Michael Bloomberg may have a better chance of beating Donald Trump for the presidency than anyone else out there. If he runs, right now I would vote for him. And I'm neither Republican nor Democrat, but an independent. What say you?