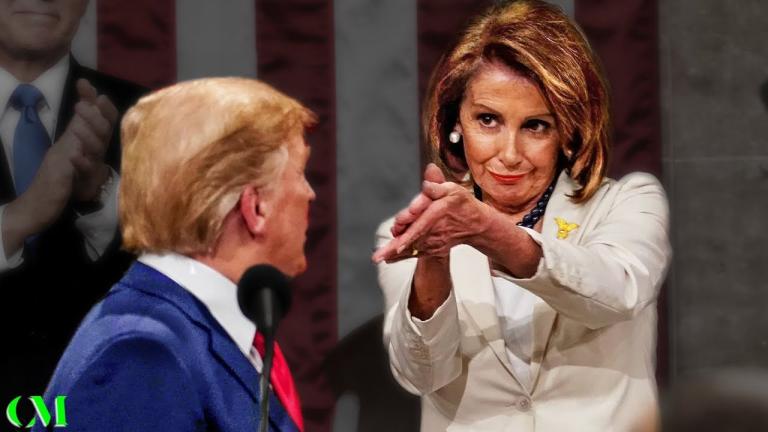 Donald J. Trump repeatedly acts like a schoolyard bully even as the House of Representatives is about to impeach him today as 45th president of the United State of America. It will be one of the most sobering days in the history of the U.S. presidency.
This weekend, Nancy Pelosi–who is Speaker of the House and thus the commander-in-chief of this impeachment–spoke on national television. Trump has for years now been calling her Nervous Nancy. Yet she clearly has his number in any face off. I'd like to see the two of them in debate. Just consider her weird hand clap aimed at him as she sat behind Trump while he was speaking at a podium.
On Sunday, Trump tweeted of Ms. Nancy's recent speaking performance, "Nancy's teeth were falling out of her mouth, and she didn't have time to think!" He was referring to Pelosi moving her mouth slightly as she was drinking a sip of water. Yet her speech was not flawed, nor was there anything wrong with her teeth.
The next day, Pelosi was asked by reporters about this Trump comment and the six-page letter Trump sent her disparaging her impeachment efforts as she was strolling through the halls of Congress. She merely said, "ridiculous," and kept moving.
I'd like to see Speaker Pelosi respond to remarks like this from President Trump by making humorous comebacks. That's what such Trump behavior deserves. Don't let him get away with stuff like that. And try to make it humorous similar to Pelosi's handclap.
Throughout most of this year, an increasing number Pelosi's Democratic caucus in the House was calling for impeaching this president. But Pelosi remained unconvinced of it until one thing happened: Trump's phone call to Ukraine's President Zelensky on July 25th after it became known to the public and the White House provided its summary of this phone call. In the call Trump allegedly bribed Zelensky by demanding gain over his political opponent Joe Biden in order to release $391 million in military aid to Ukraine in its defense against perennial U.S. foe Russia. The U.S. Constitution forbids soliciting a foreign power for political gain. Yet Trump has repeatedly defended it as "a perfect call." But the information about this phone call caused Pelosi to agree with the majority of her caucus that this president needed to be impeached.
When Pelosi was asked that question by reporters Monday, she could have answered, "When I make a phone call, it is 'a perfect call' because I have perfect teeth, not loose teeth. But sometimes when President Trump makes a phone call, he does it with loose brains."