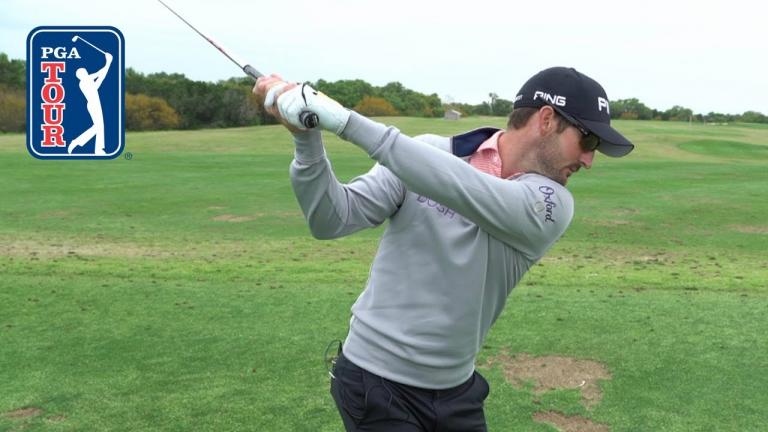 Andrew Landry overcame a back nine collapse today to win the PGA Tour's American Express tournament on the Stadium Course PGA West in LaQuinta, California, today. Landry was cruising at 27-under par with a six-stroke lead over Abraham Ancer, who was in second place, early in the back nine today. Then the wheels came off. Landry bogeyed the 13th, 14th, 15th holes, and missed a short birdie putt on the par five 16th. In the meantime, Ancer snagged four birdies that back nine to draw even with Landry.
Although Landry and Ancer were not paired together, both players were tied at 24-under par when Landry stepped up to the short par three 17th hole. That hole can make the best of them nervous since it has a small green surrounded by water, just like the 17th hole as Sawgrass where The Players Championship is contested every year.
Landry played a terrific shot to about six feet and made the birdie putt to regain a one stroke lead over Ancer at 25-under par. Ancer then parred the par four 18th hole. That hole is lined with a lake on the left side of the fairway all the way from tee to green. But Landry struck a perfect drive, with his ball even hugging the left side and fading slightly to settle safely in the middle of the fairway. He then played another short iron perfectly and made the birdie putt to win the trophy with a two stroke lead at 26-under par. It was Landry's second PGA Tour win, leaving Ancer still searching for his first.
I like Landry's swing even though it is so flat. Since he is only 5′, 7″ tall, he stands very erect at address. Like Ben Hogan, that enables him to not have much head dip, although he does have some as he enters in the impact zone. Also like Hogan, and because he is short, Landry has a flat swing. But, unlike Hogan, he has very little wrist cock. Thus, Landry is short hitter but an accurate player.
What I like about Landry's swing is that he has the swinging of his arms and his body turn so in sync that it looks like he swings the club head on the same plane so well on both his backswing and downswing. That makes for good ball striking. It was Ben Hogan who brought this important point to the discussion about the golf swing, that is, the importance of swinging in the plane. And nobody did it better than he did.
Landry also has a deliberate, slow swing that has a bit of a pause at the top of the backswing. That is kind of old school nowadays. I used to swing that way (though I was upright being taller). It happened because I used to watch Sam Snead on TV when I was a kid, and he swung the golf club with a pause at the top. I just tried to copy him.
This tournament used to be The Bob Hope Desert Classic, thus named after comedian, TV, and movie star Bob Hope. In my second year on the PGA Tour, he gave me my nickname–"the pro from the moon." For that reason, and the great weather every year at that tournament, it was one of my favorite on Tour. I imagine it's a favorite of Andrew Landry now, too.