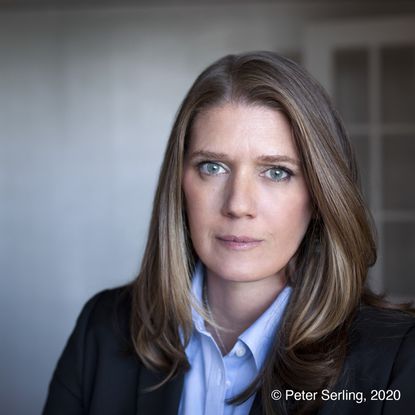 Mary Trump, niece of President Donald Trump, has written a book entitled Too Much and Never Enough: How My Family Created the World's Most Dangerous Man. Published by Simon of Schuster (they published John Bolton's book recently), the book is being released next Tuesday, two weeks ahead of schedule. It's because pre-sales rocketed it to the #1 bestseller position on amazon.com. That is a pretty shocking subtitle. Mary Trump seems to mean that with every spiritual fiber of her soul.
Fred Trump was a real estate tycoon in the greater New York City area. He and his wife had five children. The eldest was Fred Trump Jr., Mary Trump's father. He died due to a heart attack induced from alcoholism at age 42, when Mary was 16. Donald last year admitted that he had been too tough on his elder brother Fred, who refused to continue working in the family real estate business and became a pilot with TWA.
When Fred Trump Sr. died, in 1999, Mary and her brother Fred III sued the Trump family because they were cut out of the will. They said Donald had stashed away elder Trump's assets so that there was no transparency about them. They further alleged the family, led by Donald, was dishonest in reporting Fred Sr.'s net worth as $30 million when it was actually over $100 million. Thus, Mary and her brother were not getting nearly their share of the inheritance. They finally settled legally, with Donald demanding they sign an NDA about family history, which they did.
Mary Trump is a 55-year old clinical psychologist with a PhD who lives on Long Island, New York. Her book is about two things: narratives about the Trump family that relate to her uncle Donald Trump, and Mary's psychological evaluation of Donald Trump. Excerpts have been released by the news media the past two days since the publisher forwarded copies to them this week.
Mary tells many experiences she had with her Uncle Donald. Her evaluation of him is that he is a narcissist. That is what I have said dozens of times in the approximate 150 posts I've written on my blog about Donald Trump ever since his political campaign for president in 2015.
Mary Trump also says that her grandfather Fred Trump Sr., Donald's father, is largely to blame for the creation of her Uncle Donald's narcissism. She even says Fred Sr. was a sociopath. If Mary is correct in her assessment and analysis, it's all very shocking and disgusting that Donald Trump became president of the United States of America.
Mary Trump says that her Uncle Donald invited her to join the family-at-large and many others at his 2016 presidential election night party. She declined because, expecting Hilary Clinton would win the election, she says in the book, "I wouldn't be able to contain my euphoria when [Hilary] Clinton's victory was announced, and I didn't want to be rude."
The next day, Mary Trump wrote on her Twitter account, "Worst night of my life." She reportedly wrote that sentence about a dozen times in tweets that were deleted only recently. Why? Mary says, "it felt as though 62,979,636 voters had chosen to turn this country into a macro version of my malignantly dysfunctional family."
One of Donald Trump's two sisters and Mary's aunt, Maryanne Trump Barry, was a federal judge who retired last year, apparently because of the ongoing investigations into Donald Trump's tax returns that he has always refused to make public. I wonder why. Mary says in her book that several of the narratives about the family are attributed to her Aunt Maryanne. Mary says Maryanne, who is a devout Roman Catholic, regarded her brother Donald "a clown" with "no principles."
Ms. Trump also alleges that The Donald, who repeatedly has called himself publicly "a stable genius" since being president, did not have very good grades in high school. So, she says he cheated by paying a friend to take the SAT for him to get accepted into Wharton at the University of Pennsylvania. Mary says that in her Uncle Donald's life, he practiced "cheating as a way of life." Maybe I'm right about him cheating in golf.
Mary Trump says of Donald Trump's presidency and her family, "we should be judged harshly. . . . I grieve for our country."