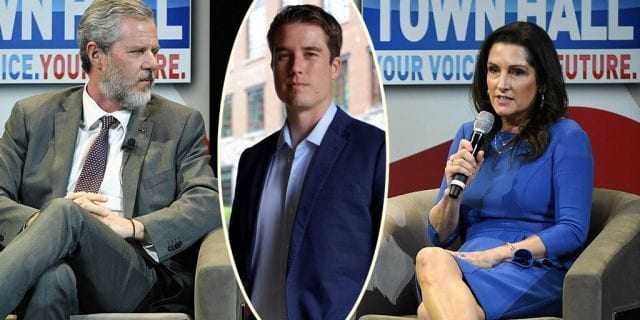 Reuter's first reported today that Jerry Falwell Jr., the president of Liberty University in Lynchburg, Virginia, along with his wife Becki, has been involved in a sexual scandal, and because of it he resigned his presidency this evening. It is a salacious, depressing story about an evangelical leader that I'd rather not even report.
Giancarlo Granda, a 29-year old post-graduate of Georgetown University, has admitted to having an eight-year affair with Falwell's wife Becki of which Jerry not only approved but sometimes watched the two having sex. (Falwell denied both of these allegations today.) Granda says it began in 2012 when he was a pool attendant at the famed Fountainebleau Hotel in Miami, Florida. He says the Falwells were poolside, and Mrs. Falwell approached and solicited him for sex. It's a long tale, and I won't get into it since this story is being reported much in the media, including The Washington Post. After all these years, Granda says he has come forward with his story because Falwell Jr. has reneged on payments to him due to a hostel ministry project for youth in Miami that involved real estate, and Granda had become a real estate agent.
Falwell Jr. has become a center of media scrutiny in recent months due to other events as well. For instance, he posted a photo of himself on Instagram on a yacht with his arm around another woman, who he said was his wife's secretary. He also was holding what appeared to be a mixed drink in the other hand. More importantly, his pants were unzipped. When he received immediate criticism for the photo, which he said was done as a joke, he removed it. How is that a joke for the president of the largest Christian college in the nation, especially since his school forbids students from drinking alcoholic beverages and has other similar, moral taboos?
What makes this scandal involving Granda big news is that Jerry Falwell Jr. was the first evangelical leader to publicly announce in 2015 his support for Donald Trump in Trump's campaign for the U.S. presidency. Falwell gradually became a fixture in Trump's retinue. For example, President Trump delivered the commencement speech at the graduation ceremony at Liberty University in 2017.
Liberty University is the largest Christian college in the U.S., with a student body of over 100,000. The school was founded by Falwell Jr.'s father, Jerry Falwell Sr. The elderly Falwell, a Southern Baptist preacher, had become a major figure among especially evangelicals and Pentecostals. He did so primarily by forming an organization named Moral Majority that led the culture wars on behalf of many Christians. It is now ironic that Falwell Jr. has been exposed in a bizarre sex scandal since his father was supposed to be this leader of morality. But frankly, I was never a fan of Falwell Sr. especially due to his appearance of unseemly seeking the limelight and being somewhat arrogant, it seemed to me.
It remains to be seen if this Falwell scandal will cause many evangelicals and Pentecostals who voted for Trump in 2016 to abandon him come election day this November. I suspect it may cause some of them to just not vote. But it may not have much of an impact even though Falwell Jr. had much influence in causing evangelicals to vote for Trump back in 2016.
This is just another episode of a so-called Christian leader living a lifestyle unbecoming of Jesus and his gospel–meaning "good news." It seems these things come out in the open more times than they used to. And when they do, it gives the world more ammunition to use against the Christian message if not Jesus himself.
But all should know that it would be a fallacy to assess Jesus on the basis of people who claim to be his followers. Of course, nobody's perfect, and I don't mean to judge the Falwells here as to their eternal destiny. But I would remind everyone that Jesus sometimes said some startling, even frightening, things about hypocrites.
The main such saying that comes to my mind is in Jesus' Sermon on Mount. He said concerning the Day of Judgment, "Not everyone who says to me, Lord, Lord, will enter the kingdom of heaven, but only the one who does the will of my Father in heaven. On that day many will say to me, 'Lord, Lord, did we not prophesy in your name, and cast out demons in your name, and do many deeds of power in your name?' Then I will declare to them, 'I never knew you; go away from me, you evildoers'" (Matthew 7.21-23 NRSV).