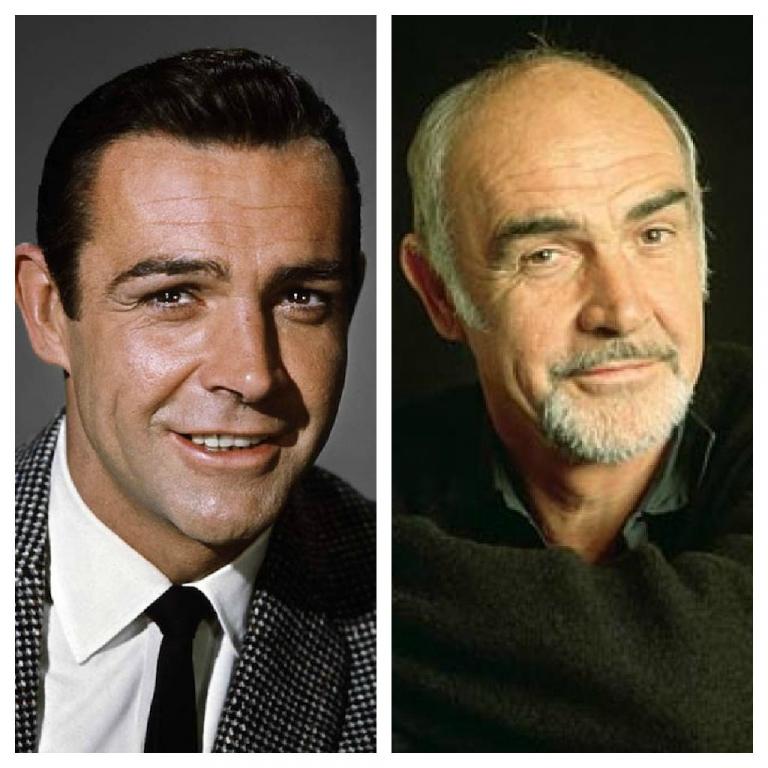 Superstar actor Sean Connery died last night at the age of 90 at his home in The Bahamas. The handsome, 6 foot 2 inch, manly-looking bloke with the thick, Scottish brogue acted in sixty movies. He won an Oscar for a supporting role to Kevin Kostner who played the real life Eliot Ness in "The Untouchables."
But Sean Connery's thrust to fame occurred earlier than that, during the 1950s and 60s, by playing in a series of six spy-thriller films featuring a secret agent named James Bond who self-identified by the code numeral "007," often stated "double O seven." This fictitious Bond character and the scripts were based on British journalist Ian Fleming's series of twelve novels. These films are still shown on TV. In some of them, there are golf scenes. Connery liked to play golf, and sometimes he participated in pro-amateur events on the PGA Tour, such as the Bing Crosby National Pro-Am in Monterrey, California, which I often played in.
Due to Connery's Bond films, "Bondmania" was a rage in the 1960s. In about 1968, in my fourth year on the PGA Tour, I had what I call a "double O seven Bond moment." I was participating in the Tour's Las Vegas Invitational tournament. My wife and I attended a Las Vegas show one evening featuring Miss Pat Collins. She was perhaps the nation's most famous hypnotist at the time. During her show, Collins asked for volunteers from the audience to come up on the stage for her to hypnotize them. [I've blogged about this before.] I volunteered, like a fool, thinking she couldn't hypnotize me, though I wasn't opposed to the idea.
Ten people volunteered. She hypnotized five of us and sent the other five back to their seats. Not only was I one of the five, it turned out that I was the star. She sent the other four that had been hypnotized back to their seats. So, I was the only volunteer left on the stage. I won't go into the details, here, except to say she would give me stupid suggestions, all of which I did. I definitely was in a trance. I had a keen awareness of all that was going on. Under normal circumstances, I never would have done her suggestions, such as pretend that I was building a sand castle and make up a song and sing it.
Then she sent me back to my seat. But before she did, she asked me if I was there with anybody. I replied that my wife was there. She then said, "Go back to your wife and act like you are James Bond to her." As I was walking off the stage, I exclaimed loudly, "But my wife doesn't like James Bond," which was true. Collins then yelled at me, "freeze." I immediately stopped walking just as I was about to descend the few stairs leading up to the stage.
Collins then asked that portion of the audience nearby, "What did he say?" They then told her. She then said to me, "Okay, go back to your wife and give her a kiss." So I did. Collins then quickly ended her show and came out into the audience to those of us who had been hypnotized. She talked to me, again in this rhythmic voice, as if taking me out of the trance. But before she did, she asked me to make a wish. I said, "No three putts this week." She didn't understand what I was talking about, and my wife explained it to her. Collins then gave me that suggestion. Guess what! I didn't three putt in that tournament.
I almost had a real 007 Bond moment years later. My wife and my ten year old daughter flew to Morocco for me to play in the king's golf tournament. Several other PGA Tour pros participated in it as well, including Lee Trevino. Billy Casper had invited me to go since he was helping the king put on the tournament. It was on the plane from New York to Morocco that I met and sat with Gene Roddenberry, creator of Star Trek. We talked about spiritual things for almost an hour.
When we arrived at Morocco, one of the tournament officials told me that during this 72-hole golf tournament, that would consist of Tour pros and mostly amateurs, I would be playing with Sean Connery the first round. I was delighted about it until I was soon learned that Connery had canceled at the last moment, so he wasn't coming. I soon thought, "He must have asked then on the phone what pro he was paired with the first round, and when they told him 'Kermit Zarley,' he said, "Who is that? I'll pass.'"