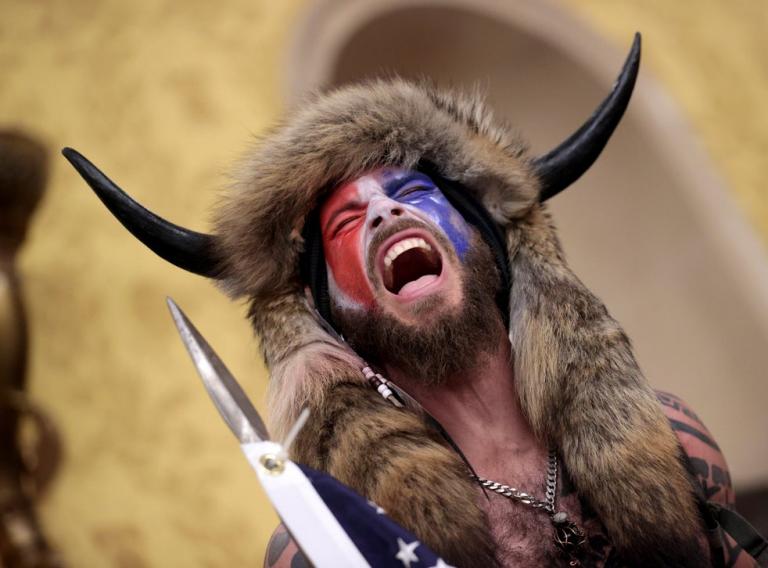 The most prominent rioter in telecasts showing the insurrection at the nation's Capitol last Wednesday was a bare-chested, heavily-tattooed, thirty-three year old guy wearing an animal fur hat with two horns on it and his face totally painted in the patriotic colors of red, white, and blue. His name is Jake Angeli, and he lives in Phoenix, Arizona. I live near Phoenix.
Friday, a call went out for Angeli's arrest. The next day, yesterday, Jake turned himself into the Phoenix FBI. They then turned him over to the U.S. Marshals Service. U.S. Marshal David Gonzales then told The Arizona Republic newspaper that Mr. Angeli would appear before a hearing, Monday, and then be sent back to the nation's capital where "he will face charges that could keep him in prison for 'years and years.'"
Much video has already appeared on many television newscasts showing the rioters storming the Capitol. And the area has loads of cameras that have pictures of rioters that make possible their identities. The FBI and other officials are viewing this evidence in order to identify rioters and eventually arrest them. Jake Angeli is perhaps the most prominent of them all due simply to his outlandish costume and constant presence there that day. The Department of Justice has now released a report on Angeli. It describes his costume that day and adds, "This individual carried a spear, approximately 6 feet in length, with an American flag tied just below the blade."
Perhaps hundreds of such rioters will be arrested and charged with unlawful, and perhaps violent, entry upon federal grounds and disorderly conduct there. Some will be charged with more counts, such as destruction and/or confiscation of federal property. Others will be charged with even more serious crimes, such as doing physical harm to Capitol police.
This assault was for the purpose of threatening the lives of the hundreds of members of Congress who were meeting in session to accomplish one of the most historic traditions in our nation–to officially acknowledge a president-elect leading to the transition to a new presidential administration of the nation. Fortunately, no Congress members were harmed. That surely was due to the heroic efforts of security officials who guided them to places of safety in the Capitol building. Six people so far have died from this violence, with three of them being Capitol police.
Arizona has been a hotbed for right-wing politics. It became one of the six swing states in the presidential election of November 3rd. After the election, President Trump and other Republicans alleged repeatedly that its election results were fraudulent and called for a recount. Lawsuits were filed for the same purpose, all of which failed. And all fifty of the nation's states affirmed the integrity of their states' ballot counts. Therefore, it is most obvious that Trump's allegation of election fraud, with him even claiming that he won the election, is the greatest of his fact-checked 20,000 lies and misleading statements that he made during the first three and a half years of his presidency. It is now being called by many Americans as "the big lie." And I don't believe it can be denied that, to some extent, it caused the assault on our nation's Capitol.
Jake Angeli's appearance is well known to many Arizonians. The Arizona Republic reports, "For the past two years, Angeli had become a fixture at political rallies, marches and protests. Besides his attention-getting outfit, Angeli has a booming voice that, without need of amplification, could be easily heard among a crowd.
"The Republic interviewed Angeli during 2020 as part of a series of stories and a mini-documentary on the Patriot movement in Arizona, the increasingly powerful right-wing of the Republican Party. Some adherents, including Angeli, promoted conspiracy theories including the baseless idea known as QAnon."
The Republic further reports, "Angeli told The Republic in a 2020 interview – he would stand alone outside the Arizona state Capitol and shout diatribes at the buildings, regardless of whether the Legislature was in session or not."
Jake Angeli told NBC News he didn't do anything wrong entering the U.S. Capitol. He said, "I walked through an open door, dude." In the above photo, Angeli is standing right where Vice-President Mike Pence had stood minutes earlier as he addressed Congress at the beginning of the process to certify Joe Biden as our next president, on January 20th. Knowing this, Angeli stood there yelling, posing for this picture.
Angeli claims he went to Washington simply due to President Trump's previous public announcements for his followers to attend a rally there last Wednesday, where he would speak, and then march on the Capitol building housing members of Congress gathered there for the certification formality. That morning at the rally, Trump told his followers to march on the Capitol and "fight like hell" because the election was "stolen."
Angeli, in a sworn statement to the FBI, which now a part of his record, explained that he came to D.C. "as part of a group effort, with other 'patriots' from Arizona, at the request of the President that all 'patriots' come to D.C. on January 6, 2021."
Much has now been publicized about how Trump's remarks that Wednesday morning at this rally incited the violence on the Capitol that soon followed. The big question to me is how much these rioters can be found guilty of crimes since the very president of the USA implicitly called on them to do this very thing. This question will surely be raised in the prosecution of these rioters.
The question then arises as to whether or not President Trump is guilty of having incited their violence. If this question will be raised in the prosecution of these rioters, it seems to me that asking this question of Trump cannot be avoided. I therefore suspect that Donald Trump will indeed be charged with this crime. Whether or not he is found guilty remains to be seen. If he is, will the sentencing of crimes committed by these rioters be reduced because of President Trump's inciting them to do such crimes?