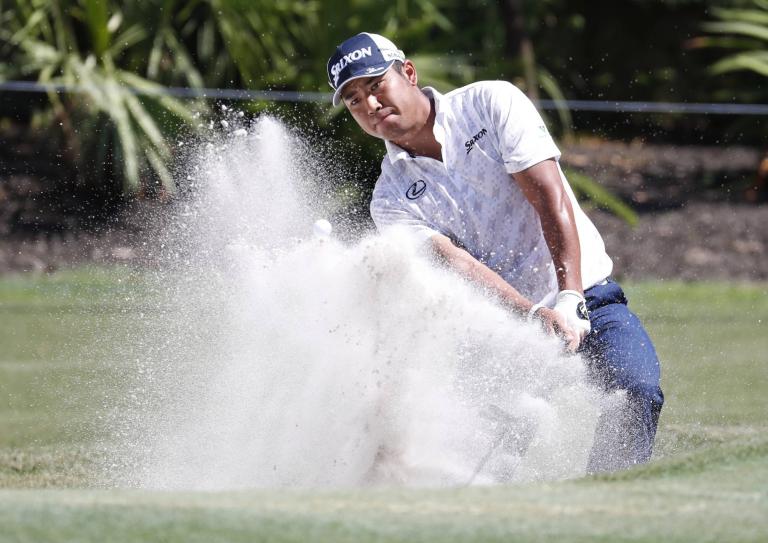 Twenty-nine year old Hideki Matsuyama shot a one-over par 73 round today to win the Masters by one stroke over 24-year old Will Zalatoris with a 10-under par total of 278. It was his sixth win on the PGA Tour and his first major. Hideki thereby became the first Japanese male to win a major championship in professional golf. It will no doubt be a very historic occasion in Japanese sports if not Asian sports as well. For, Japan is a nation where golf is a rather popular sport, at least at the driving range.
Earlier in the day, Hideki had as much as a six-stroke lead on the field. He plodded along without doing anything fancy and plotting his round with about a less risk as possible. His only mishap was on the par-five 15th hole where he went for the green on his second shot and found the water. The only players to put any pressure on him were Will Zalatoris and Xander Schauffele.
Xander rattled off a bunch of birdies on the back nine while playing with Hideki in the last twosome. But Xander made a strategic error by going for the pin on the short par three 16th hole, which was tucked left as always on Sunday at the Masters. Xander's ball landed on the bank beside the left side of the green and bounced into the water. He finished the hole with a disastrous triple bogey 6 that allowed Zalatoris to finish alone in second place with his 70 today.
Actually, Matsuyama had a two-stroke lead over Zalatoris at the last hole. The par-four 18th hole at Augusta National Golf Club–where I played in six Masters tournaments myself–is a very narrow hole lined with trees and having two sand bunkers on the left where your drive lands or rolls. Hideki hit a perfect drive there, right in the middle of the fairway and long, with only a wedge shot to the green. When asked after the round where he felt the most pressure, he said it was on that shot. However, he surprisingly hit a poor wedge shot into the right bunker. In the history of the Masters, that happens so often to players that have been in contention to win on Sunday. It happens way more than their second shot missing the green to the left. Arnold Palmer lost the 1961 Masters to Gary Player when Arnold did that very thing on the last hole. From that right bunker he then blasted poorly and made a double bogey to lose by one stroke.
But Matsuyama hit a respectable shot to ten feet short of the hole, missed his putt and tapped the next one in for a bogey to win by one stroke.
Japan is an interesting place when it comes to golf. Japan has a sizable and prosperous population on a very small piece of real estate. Therefore, land for golf courses is hard to come by. I played in the Pacific Masters north of Tokyo in the late 1970s three years. One time someone took me to a driving range. It had three decks and was full of golfers hitting balls. I've never seen so many golfers hitting balls at a driving range. Come to find out, many of them hit the ball quite well but had never played golf! You read that right. Their only association with the game is at these huge, public driving ranges.
In Japan in those days in professional golf tournaments, all of the caddies were females. And several of them did like my caddie did at least one and perhaps all three years (I've forgotten); at the completion of the tournament they give their player a set of knitted head covers for your wood clubs as a gift. (This was before metalwoods. And we didn't really need them because most of used the head covers of the company that made our clubs.) So, although these female caddies usually couldn't speak English, we thought they had knitted the head covers themselves as a gesture. But I later learned that they had merely bought the head covers at stores for a very low price.
Hideki Matsuyama plays golf life a machine that doesn't show any emotion. Just the opposite of Tiger Woods with his many fist pumps. But when Hideki walked off the 18th green today, you could barely tell that he was tearing up. His first Masters had been ten years ago at age nineteen as an amateur, and he was the low amateur that year. I'm sure he has been envisioning all those years in between of winning the Masters and he finally did it. It was an historic occasion when defending champion Dustin Johnson performed the unique Masters tradition by putting the Masters green jacket on Hideki to join the elite group of Masters champions. Interestingly, there were only five Americans among the top eleven at the Masters this year. The Masters golf tournament is truly an international sporting event, and Hideki Matsuyama, who seems to understand English somewhat but is not able to speak it, has contributed to continuing that tradition of the Masters being a truly international sporting event.