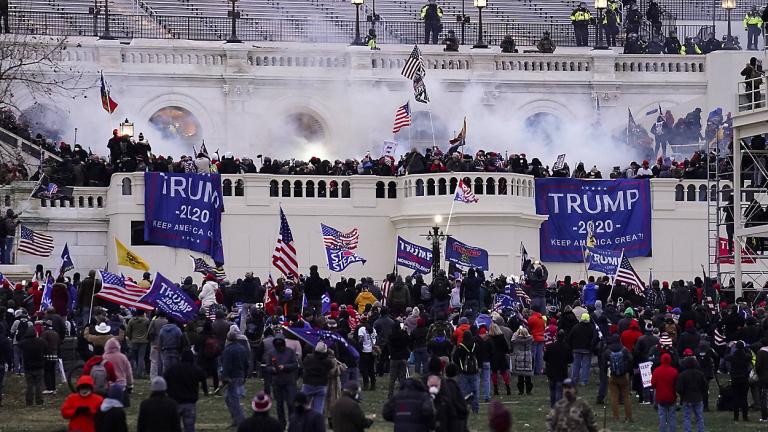 Republican senators successfully voted yesterday to block the creation of an independent, bipartisan commission–similar to the 9/11 commission–to investigate the Capitol riot that occurred on January 6th. In my opinion, that is a travesty against our democratic form of government. Indeed, the House impeached former President Trump for causing that "insurrection." And this negative vote was done yesterday despite the majority of American voters calling for such an investigation. It's because there is so much disinformation going on and lingering questions about what actually happened and what caused it.
Republican leaders such as Senator Mitch McConnell of Kentucky and Representative Kevin McCarthy of California are trying to ignore the riot, and forget about it, even though it was the greatest attack on our democracy since at least the Civil War. Yet most Republican voters still think it was justified because they believe the election was stolen from President Trump.
Since the riot took place, television viewers have been witnessing constant video on TV news channels of the horrendous violence that took place on January 6th at the Capitol in an effort to stop, and kill some of, the 535 members of Congress meeting then to officially certify that Joe Biden won the election fair and square–in opposition to then President Trump saying otherwise–and declaring that Biden would become president in two weeks. Five people died from that assault, one being a Capitol Police officer, and 140 of those police officers were injured. Yet they sacrificed their lives to amazingly prevent any of those 535 members of Congress, such as McConnell and McCarthy, from being injured or killed by those hundreds of violent rioters. We could see and hear from that televised video coverage many of those rioters yelling about Republican Vice President Mike Pence, "Hang Mike Pence," because he would not try to overturn the election. And some were yelling about killing Democratic House Speaker Nancy Pelosi.
There is so much film coverage that has been shown on television ever since WWII which depicts Germany's empowered Nazi Party, led by evil Chancellor Adolf Hitler, in its systematic murder of six million Jews. Yet there are hundreds of thousands, perhaps millions, of people today around the world who deny that this most atrocious Holocaust ever existed.
Some Republican lawmakers have been characterizing the January 6th Capitol riot in such a way as to remind me of modern Holocaust deniers. For example, Wisconsin Senator Ron Johnson said on Fox News the Capitol insurrection on January 6th was "by and large a peaceful protest." Georgia Representative Andrew Clyde said of the affair, "If you didn't know the TV footage was a video from January the 6th, you would actually think it was a normal tourist visit." Arizona Representative Paul Gosar called the rioters "peaceful patriots." His brother David then accused him of "treason."