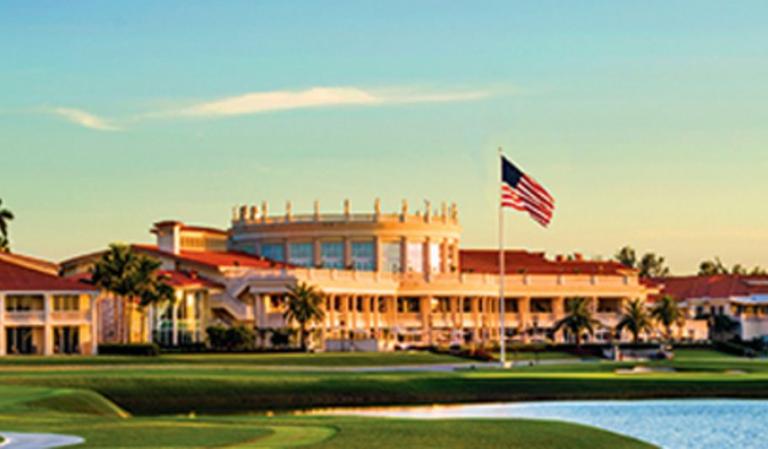 The Doral Open, in Miami, Florida, used to be one my favorite tournaments and venues on the PGA Tour. I usually roomed there at the hotel, which overlooked the golf course we played, called The Blue Monster. In my second year on the Tour, in 1966, I had my first chance to win, and it was there at Doral. I took the lead the first round with a seven-under par 65 in windy conditions. I then led the tournament wire-to-wire, as they call it, until the 71st hole, when I three putted. The par-four last hole was always rated as the toughest finishing hole of all the regular tournaments on the Tour. I hit a great four iron to ten feet. Needing a birdie to force a playoff with Phil Rodgers, I putted and my ball stopped, with a portion of it hanging over the edge of the cup. So, I lost by one stroke to finish alone in second place. The experience helped to spur my pro golf career forward until I won my first tournament two years later, at Napa, California.
Donald Trump bought Miami's Doral Hotel and Country Club in 2012. He changed the name of this 700-acre property to Trump National Doral Miami. He then reportedly spent perhaps as much as $250 million in renovation of this prized resort, some of it on its three golf courses. Forbes (1/21/21) magazine reports that revenue generated at Trump Doral (shortened name) has been annually decreasing. In 2015, its revenue was $92 million, 2016 was $87 million, and 2017 was $75 million. In the years 2018 and 2019 its revenue inched up slightly, with revenue in 2019 at $77 million. Not surprisingly, in the pandemic year 2020 its revenue was dropped way down to $44 million.
Forbes also reveals that the Trump Organization had taken out a loan of $125 million with Donald Trump's favorite bank, Deutsche Bank of Germany, to aid in the renovation of Trump Doral. The entire principal of that loan is due in 2023. Of course, it may be possible for the Trump Organization to then refinance that loan. However, Donald Trump is no longer on the good side of Deutsche Bank, which recently had to turn over financial records of its dealings with Mr. Trump to Manhattan District Attorney Cyrus Vance, Jr., who is conducting a serious criminal investigation of Donald Trump and his businesses. Thus, the last few years of declining revenue at the very renovated Trump Doral suggest that the Trump Organization could be in for a financial squeeze in 2023 concerning this coveted and very sizable property for its area.
However, Florida's very strong Trump-supporting governor, Ron DeSantis, and state Republican lawmakers may have just saved the Trump Organization a financial disaster waiting to happen with Trump Doral. Wednesday, Florida's legislature passed a legislative package that dramatically expands gambling in the state, thus the creation of casinos. Florida has previously limited gambling to Indian casinos and horse racing properties. The bill has an agreement with the Seminole Tribe of Florida not to allow the building of any gambling casinos within a 15-mile "straight line" from the Tribe's Hard Rock Hotel and Casino Hollywood. Interestingly, Trump Doral is located just barely more than 15 miles from that property.
So, it appears that the Trump Organization, which has much experience with owning gambling casinos, will be able to add a huge gambling casino to Trump Doral that no doubt will financially save that resort for Mr. Trump. So much for Trumpian politics that still survives even though the former president is now public citizen number one.