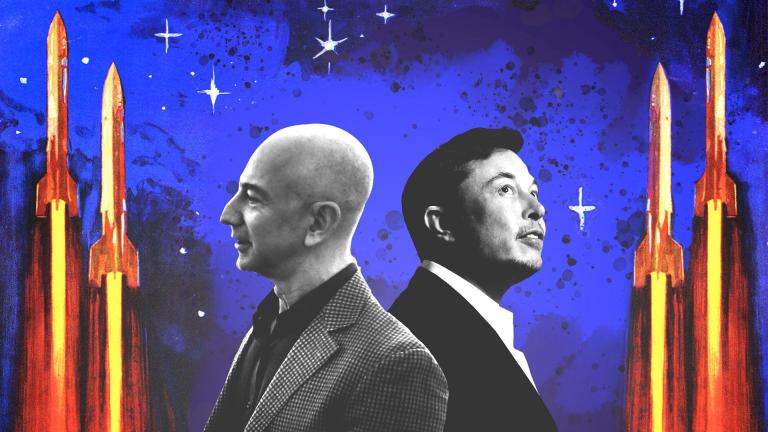 The two richest men in the world–Jeff Bezos of Amazon and Elon Musk of Tesla–are both on a mission to conquer space. Jeff Bezos announced today that he and his brother Mark will fly next month into space in the first space flight for Blue Origin, a rocket company founded and owned by Jeff. And Musk announced last December that he will fly to Mars, and he predicted the first SpaceX flight to Mars will occur by 2026. In 2002, Musk founded SpaceX, an aerospace transportation company. And this company has been doing much transport of cargoes, and recently astronauts, to the International Space Station. However, Elon Musk is known for his overly optimistic predictions involving dates, whether about Tesla or SpaceX.
Jeff Bezos explained about his passion for space, "Ever since I was five years old, I've dreamed of traveling to space." And Elon Musk has had a long-time desire–above and beyond all of his other visions to make a pun–to travel to Mars in an effort to be the first to spearhead the establishment of human colonies on other planets.
The three main players in this space, to make another pun, are Blue Origin, SpaceX, and Virgin Galactic, which latter was founded by England's Richard Branson.
Last year, Bezos's Blue Origin lost to Musk's SpaceX in a bid to take NASA astronauts back to our moon. But Bezos, if he pulls this space flight off next month, will best Musk in being the first of these two very billionaires to fly into space. Musk has not said he that desires to do that, but rather to accomplish the bigger prize of being the first to step foot on Mars.