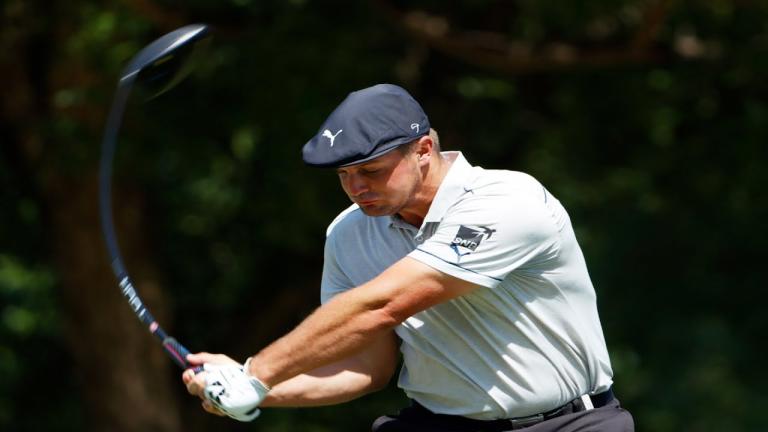 PGA Tour star and so-called "mad scientist" Bryson DeChambeau is not as smart as I thought he was. The twenty-seven year old refused to get a COVID-19 vaccination(s), yet he competed in pro golf tournaments all year, including The Open in the UK which, of course, involved the riskier international travel. A week after The Open, held July 15-18, Bryson tested positive for COVID-19. He said nonchalantly, "It was bound to happen…. The odds are you get tested enough, you travel around, it's going to happen." After taking some time off the Tour, isolating with the disease, in which he said he just felt "tired," he's now in the field this week at WGC-FedEx St. Jude Invitational at Memphis and rated with a 14-1 chance to win.
DeChambeau is a big talker, at least to the media. I think he is an intriguing person, and he has brought innovation to pro golf with his approach to the game. It involves bulking up big time in the gym, including adding forty pounds, bombing it off the tee as if in a long-drive contest, and making all of his iron clubs the same length and lie.
I also think non-vaxxer Bryson DeChambeau is too self-centered for his own good and that of others. That now reveals itself in some public remarks defending himself about not getting the COVID shot(s). ESPN quoted DeChambeau about getting COVID-19, "The vaccine doesn't necessarily prevent it from happening." He also explained about getting the vaccine, "I'm young enough, I'd rather give it to people who need it. I don't need it. I'm a healthy, young individual that will continue to work on my health.
"I don't think taking the vaccine away from someone who needs it is a good thing. My dad is a perfect example. He got it early on because he's a diabetic. People like that need to get it. My mom got it. I don't want to take away that ability."
There are so many holes in this DeChambeau reasoning that I must conclude he here reveals himself to be self-centered and STUPID! What are my reasons?
Bryson, it's not a black-and-white issue, smart guy! The main thing is that the vaccine provides amazing protection from getting the disease. What vaccine has ever been perfect? Similarly, you can wear sunscreen lotion on your face out there while playing the PGA Tour and still get skin cancer; but that lotion, with at least SPF 30, will help a lot in keeping you from getting such skin cancer.
Bryson, for months before you said that post-July 18th, the U.S. has had way more of a supply of vaccines for this virus than the number of American citizens eligible for it in accordance with age, meaning over 18. So, you taking two shots wasn't keep anybody from having two shots. Pretty simple arithmetic, man.
You say you don't need the vaccine since you're young, strong, healthy, and you will continue to work on your health. Bryson, the main issue here is not you working on your health, Mr. Self Centeredness; it's you working on other peoples' health by not contracting COVID-19 and spread it to them, which is the same for everybody else. Most people who have contracted COVID-19 so far never knew they had it, that is, if they didn't test for the antibodies, because they were asymptomatic. So, the point you are missing is that you need to be working mostly on other peoples' health, not yours, especially since you are a celebrity who is in contact with so many people to whom you could transmit without knowing it.
Bryson also told the reporter, when asked if he would now get the vaccination, "Now as time goes on, if it is mainstream, really, really mainstream, then yeah." Bryson, when that happens, fella, you're too late to party because that would be herd immunity, meaning we have conquered it.
Most of all, celebrities like DeChambeau are a role model to society, whether they like it or not, and therefore have a civic responsibility to be a worthy citizen. President Biden is constantly telling the public, as he did yesterday, that getting the shot(s) is "gigantically important." Indeed, experts have been telling us ever since COVID-19 began spreading that society needed to achieve herd immunity (80% or more people have antibodies to the disease) in order to prevent the proliferation of mutations of the disease, also called variants. That didn't happen, and now there are a bunch of variants spreading all over the world. The Delta variant is ravaging America and could supersede what the original COVID-19 has done. We are now headed into the fall in which authorities are going to have to do economic lockdowns again after thinking we were coming out of this horrible pandemic. Stupid people like Bryson DeChambeau need to get their head on straight and do what President Biden says, "GET THE SHOT, MAN!"
[I wrote a book about this pandemic entitled Moses Predicted COVID-19 published just over one year ago.]