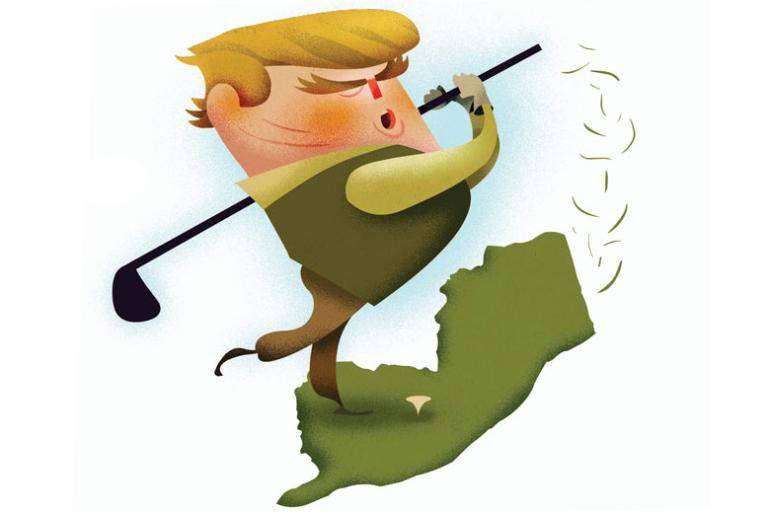 I've blogged before about a mulligan in golf. That's when you tee off on the first tee and hit a lousy tee shot and then promptly hit another tee shot, and if your second tee shot is better than your first one, you abandon the first ball and play the second ball with no penalty stroke. It's also called a do-over. But that's only fun golf, not tournament golf.
Ex-U.S. President Donald Trump goes on and on and on by calling the presidential election that he lost almost one year ago a "hoax" and a "fraud," so that his re-election was "stolen" from him. But he and his minions lodged some sixty lawsuits challenging election results in multiple states by charging that they were fraudulent, yet he lost every one of those lawsuits. Trump is nuts about this! He's like a little kid who can't stand losing and just cries and cries and cries about it. Trump, you big man, get over it.
In Donald Trump's former home state and still the headquarters location of his Trump Organization, New York State, they have a saying the The Donald knows full well–fawgetaboutit! Donald, you need to regain your sanity (?) by doing that very thing–fawgetaboutit. It's been over for nearly one year now and you still can't get over it? You need to see a shrink.
The Donald also knows full well about a mulligan in golf, and that's what he's calling for regarding that 2020 presidential election. He's demanding a mulligan. But The Donald, being a good golfer, also knows full well that mulligans are only allowed for fun golf, not tournament golf! Being president of the USA is like playing tournament golf, Donald, like playing in the four best golf tournaments in the world, the four majors: Masters, U.S. Open, PGA Championship, and The Open. No mulligans there!
Worse than that, Trump is now talking about quitting if there is no mulligan for him. That's right! He issued the following statement last Wednesday to his voters that have supported him: "If we don't solve the President Election Fraud of 2020 (which we have thoroughly and conclusively documented), Republicans will not be voting in '22 or '24. It is the single most important thing for Republicans to do." Wow, that's not sitting well with a lot of Trump Republican sycophant members of Congress.
A Bible proverb says, "There is a way that seems right to a person, but its end is the way to death" (Provers 14.12; 16.25 NRSV). If Trump's voters do what he says, they are not going to change those election results; rather, they will sink the Republican ship, and "its end" will be "the way to death."
Trump sank the Republican ship last year by doing that very thing. Georgia had a runoff post-election for its two U.S. senator positions because both races were so close. Trump alleged voted fraud in that November 3rd election. And before the runoff, he called on Georgia Republican voters to not vote in it. That was downright crazy. Most political analysts, including many Republican members of Congress, believed that both Democrats beat both Republicans for those two U.S. Senate positions because Trump did that. The Republicans had the majority, over 50, in the Senate until that happened, which effectively made it 50 to 50, in which the Constitution says that any tied vote in Congress is decided by the Vice President. Since Democrat Joe Biden won the presidential election, that meant that his Democratic Vice President Kamala Harris gave the majority of the U.S. Senate to the Democrats, which they had not had for many years. It was crazy, and now Trump is doing the same thing again.
This Mulligan Demander who turned the White House black just never learns. Even though Trump still has big numbers of supporters in the Republican Party, it's still looking to me that The Donald is some big baggage that the party needs to hide away in the closet because if he doesn't get that mulligan he demands, he's telling everybody out on the course to pick up their ball, pack up their clubs, and head for the clubhouse!