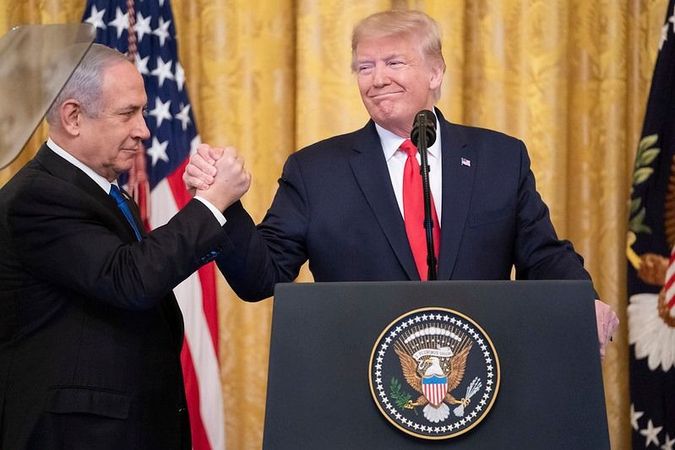 Axios reporter Barak Ravid revealed yesterday that he recently interviewed ex-U.S. President Donald Trump in which he spoke quite derogatorily of his friend ex-Israeli Prime Minister Benjamin Netanyahu. It concerned Netanyahu having congratulated Joe Biden on winning the U.S. presidential election last year soon after media outlets were announcing that Biden had won. Trump has always claimed since then, without any evidence whatsoever, that it was a fraudulent election and that he really won it.
So, Ravid claims Trump said of Netanyahu, "F— him! The first person that congratulated him," meaning Biden, "was Bibi Netanyahu, the man that I did more for than any person I dealt with" as president. There is apparent truth to that, or at least pro-Israel folks think it was helpful to Israel.
Trump rather drastically changed long-time U.S. policy regarding the Israeli-Palestinian conflict by doing the following: (1) recognizing Israel's annexation of the Golan Heights, (2) refusing to criticize increasing Jewish settlements in the West Bank, and (3) relocating the U.S. embassy in Israel from Tel Aviv to Jerusalem. Israelis generally believed that all of this was in their best interests. But it further hurt any chance of a peace process. And the U.S. lost its prestige of being the sole negotiator in this conflict for decades. In my opinion, all of it was a detriment to Israel.
Christian evangelicals had a lot to do with voting Donald Trump into the White House. When President Trump made these above decisions regarding Israel, he was merely carrying out promises that he had made during his 2015-2016 political campaign for the presidency. Since evangelicals are extremely pro-Israel and anti-Palestinian, evangelicals were happy that President Trump made these moves.
But after learning of Trump's statement against Netanyahu yesterday, some evangelical leaders are upset with Trump about it. For example, Texan Mike Evans, one of the first to publicly support Trump in 2015 and become an advisor to him, now says he is "horrified" at what Trump said about Netanyahu. He also says he just wrote a letter to Trump saying, "Netanyahu has much greater support among evangelicals in America than you." It looks like some evangelicals may depart from Trump's political base just over this.